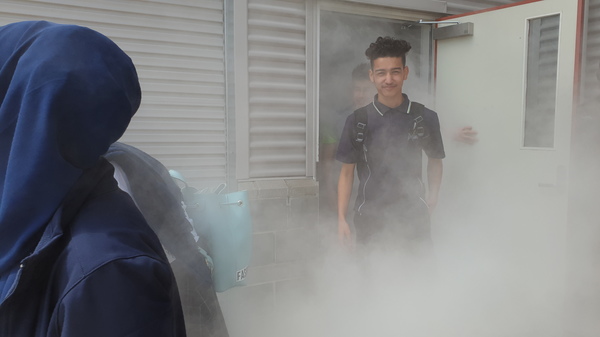 By Cam Lucadou-Wells
You could call it a classroom of life.
About 40 students were given rare insight into the lot of emergency services members during a special event at Dandenong CFA station on 28 October.
The students from Fountain Gate Secondary College and the Bunurong Youth Program met with members of Dandenong CFA, Victoria Police, St John Ambulance, Australian Federal Police and State Emergency Services Victoria.
They were subjected to the fire station's smoke-filled training room, and raised to giddy heights using the CFA's new virtual-reality simulations.
The students were drilled in rescue responses like CPR and stretcher situations, were given the rundown on police forensics and drug-driving tests, and blasted the horns and lights on a fire truck.
CFA cultural and civerse engagement officer Nada El-Masri said the Next Generation Youth Program aimed to break down barriers between multicultural youth and emergency service members.
"It's a fun day to help the kids understand what we do and how we do it, giving them a chance to go to a fire station," Ms El-Masri said.
"It's a safe place for the kids to come along, ask questions and get involved in hands-on activities they don't get the opportunity to participate in every day."
The experience also helped some students overcome fear for authorities and emergency service members.
"The kids should understand they can be firefighters, police members or paramedics one day as well.
"It's about building trust and communication between emergency services and these communities."