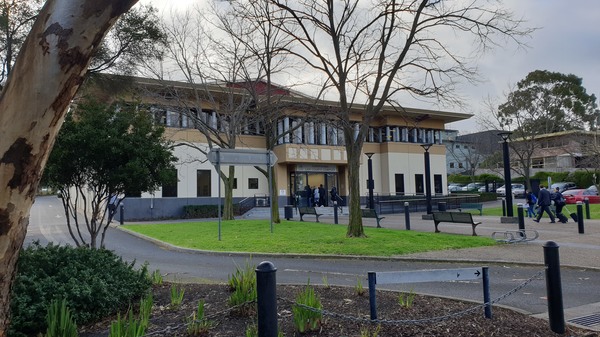 By Cam Lucadou-Wells
A student spent VCE exam eve in a police cell after being accused of a head-on crash while speeding away from police in Springvale South.
The 18-year-old learner driver was released on bail the day before his VCE English exam with separate allegations of ramming a police car also hanging over his head.
He was "embarrassed and disappointed," he told Dandenong Magistrates' Court as his parents looked on from the gallery.
He had been arrested after fleeing in his dark blue BMW sedan along a series of streets in Springvale South about 12.30pm on 28 October, the court heard.
The escapade allegedly lasted more than 15 minutes, spanning Olympic Avenue, Myrtle Street, Simpson Street, Athol Road, Noble Street, Wardale Road and Dangerfield Drive with a head-on crash in Devon Drive.
At the time, he was on bail – on a condition not to drive, the court was told.
Multiple police units were called to help intercept the allegedly speeding car, Victoria Police remand liaison officer Sergeant Chris Marlow told the court.
During the chase, the teen had allegedly narrowly missed a taxi and another vehicle, accelerating away as police activated their car's lights and sirens.
In Devon Drive, his BMW crashed head-on with a silver Ford sedan then he allegedly drove away from the scene.
The other driver in a silver Ford sedan was uninjured, except for shoulder pain, Sgt Marlow told the court.
The accused was arrested and charged with reckless conduct endangering injury, failing to stop and evading police.
At the time, he was on bail for similar charges relating to allegedly reversing the unregistered BMW at speed into the front of a police car in a Springvale alleyway on 25 September.
His rear tyres had been deflated by police stop-sticks but he continued reversing until he struck a fence, police told the court.
The teen then allegedly sped forward, narrowly missing two police officers.
When arrested the next day, he told police he'd panicked.
"It was an accident, it was not intentional. Next time I will stop," he told police after the first incident.
A Youth Justice worker recommended bail under the department's supervision. One major factor was that the teen's car was now undriveable, she told the court.
In opposing bail, police regarded him as a "very high" unacceptable risk of reoffending.
At the 29 October hearing, magistrate Tara Hartnett noted the student's night in the police cells was his first time in custody.
In the teen's favour was a lack of prior convictions and no drug or mental health issues. He had family support, Youth Justice supervision as well as being occupied by study and a part-time job.
In granting ball, Ms Hartnett conceded she was taking "deep breaths".
"The difficulty the court has got is you're putting other people at risk.
"When you're driving a car, you're driving a weapon. You can kill people with 'panic'."
The teen was again bailed on condition of not driving, as well as a night curfew to appear at Dandenong Magistrates' Court on 18 November.
"I reckon you're pretty smart. We don't have many young men in the dock doing VCE," Ms Hartnett said.
"You have to start making smarter decisions."