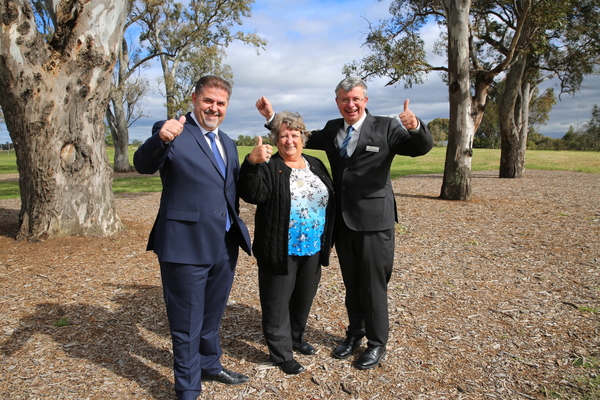 By Cam Lucadou-Wells
After eight years and divided public opinion, Greater Dandenong Council has chosen its preferred site for the Keysborough South Community Hub.
The existing dog park in Tatterson Park, on the corner of Chapel and Villiers roads, was selected due to its central location and accessibility, according to a council report.
Greater Dandenong will also build an access road into the park via Villiers Road as part of the project.
The alternate site was north of Oval 1 in Tatterson Park – which received a slightly higher community vote (269 votes to 264).
The Oval 1 option was less noisy for residents and would cause less traffic congestion on Chapel Road, its proponents argued.
At an 11 November council meeting, councillors unanimously endorsed the choice.
Its "high profile, highly visible" location was needed to "maximise the success of a community hub", Cr Matthew Kirwan said.
He added it would also be close to a planned bus route due to open in 2022.
"With all the long delays for this project, it has been one of my biggest frustrations," Cr Kirwan later said.
"That's why I'm excited to get to this point."
Cr Kirwan played down the impact of the hub on Chapel Road's congestion issues.
Since the community consultation, altered traffic signalling at Dandenong Bypass as well as the end of local road works had relieved congestion, he said.
"Chapel Road has an interesting traffic dynamic – 95 per cent of the time it's dead as anything, it's a very quiet road.
"What's unusual about Chapel Road is it's only busy between 8.15am-8.45am."
That peak traffic was unlikely to be affected by a community centre opening 12 hours a day, Cr Kirwan said.
The popularity of Paddy O'Donoghue Centre in Noble Park compared to the Noble Park Community Centre "tucked away" in Ross Reserve showed the importance of a central, "highly visible" location, he said.
Also in support, Cr Jim Memeti said the community had been "absolutely at us" to make a decision.
He said the chosen site was the one that would work best as a community hub.
In its 2019-'20 budget, Greater Dandenong had allocated money to buy private land for the hub.
The money will be instead directed towards the "additional cost" of building at the chosen site.
In its report, the council stated that the Keysborough estates' population had surged from 5516 residents in 2012 to 11,838 in 2019.
It had caused a demand for community services such as early years' children's services, meeting rooms and activities hub for the area.