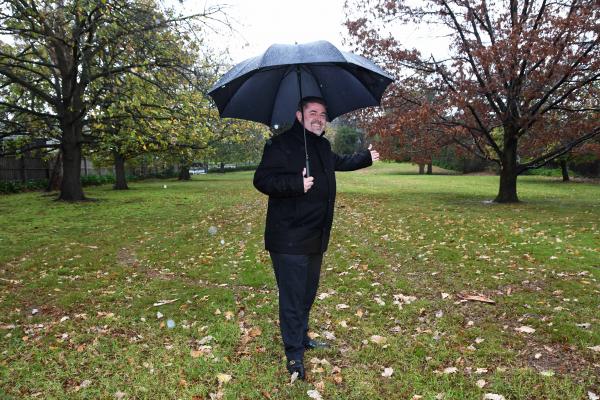 By Cam Lucadou-Wells
With a $2.625 million splash of cash, Greater Dandenong Council has intervened to save 4830-square-metres of canopied parkland.
The council beat a flurry of bids from developers at a public auction at 86-88 Clow Street Dandenong on Wednesday 1 July.
The sprawling property, owned by the McQuade family since 1936, was the rear garden of the 109-year-old home and garden The Ranges at 19 Macpherson Street.
It features several oak tree species and other mature trees with a stately wrought-iron fence fronting the street.
Mayor Jim Memeti and councillor Peter Brown, who both observed the auction, were thrilled that the land will be preserved in public hands.
"We will never see something like that (on offer) again in the centre of Dandenong," Cr Memeti said.
The move ensured the land would not be lost to multi-storey apartments or town houses, he said.
"Even some of the bidders said after the auction that it's great that at least the council bought it.
"We can now open it up as a park sooner than later."
Cr Brown said he was "so proud" of the council's purchase of the "beautiful, beautiful private garden" – and believed that was the owner's desired outcome.
"Developers had been contacting the planning department asking how many trees they could remove."
Going to auction, the price paid for the "typical English park" was "significantly more" than the property's independent valuation, Cr Brown said.
The early-20th century weatherboard bungalow, garden and grounds have been listed in Greater Dandenong's local heritage study as historically significant.
Cr Brown said the council may have an eye to buying and restoring the circa-1911 house and garden for the public's enjoyment.
The entire estate could be akin to the council-owned 'Heritage Hill' or 'Laurel Lodge' heritage property in Langhorne Street, which is used as an art gallery.
"There may be interest by a philanthropic group in acquiring the property or the council may seriously entertain acquiring it and doing it up.
"It's a beautiful park as it is.
"I'm suggesting that we seriously look at calling it McQuade Park."