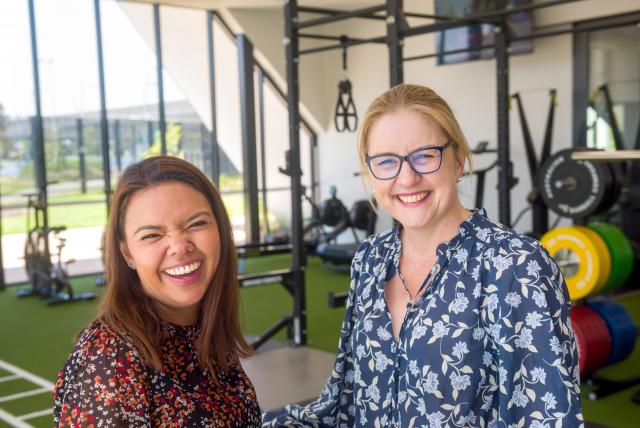 by Cam Lucadou-Wells
Despite losing considerable skin, a "relieved, humbled" Eden Foster has retained the former Premier's seat of Mulgrave for Labor in the 18 November by-election.
Suffering a 11 per cent primary swing, the safe Labor seat has turned to something more marginal.
Replacing ex-Premier Daniel Andrews, Foster said she always expected a tough fight despite the ALP carrying an 11 per cent buffer into the poll.
"We know by-elections tend to go against the government.
"History tells us you're looking at an 11-13 per cent swing and to have something that's half that (after preferences), we're happy with that.
"That's why we worked hard. We didn't take it for granted."
Foster garnered 40.1 per cent of the primaries, followed by the twin threat of Liberal candidate Courtney Mann (21.6 per cent) and independent Ian Cook (18.6 per cent).
Next in the 10-candidate field were Rhonda Garad (Greens) on 5.9 per cent, Kelly Cvetkova from Victorian Socialists (3.8 per cent), Jane Foreman from Family First (3.1 per cent) and Ethelyn King from the Libertarians (3.1 per cent).
As of Sunday, in two-party preferred terms, Foster led Cook 56-44.
The margin between Foster and Mann was estimated to be closer by ABC election guru Antony Green, but still a clear victory to the ALP.
A by-election – with its state and national spotlight – was a uniquely intense initiation for first-time state MP Foster, who replaces ex-Premier Daniel Andrews in the seat.
"It was quite intense. The attention is fully on the Mulgrave by-election, more so than if it was a general election," Foster said.
"I enjoyed the campaign process … and having the support of the volunteers, the caucus and the residents of Mulgrave."
Unlike general elections, there was no pork-barrelling.
"It was more about Labor has already given so much in this area – it has upgraded many schools, put money into level-crossing removal (in Noble Park) and other upgrades in the community.
"It has already been done."
Rival candidates however ran strongly on Labor's "neglect" of the electorate. Seemingly all of them gained primary swings, but mainly the Liberals (4.4 per cent) and Socialists (3.8 per cent).
Liberal candidate Mann said there were clearly locals "not happy with Labor", including long-time ALP voters opting for Liberal for the first time.
He was pleased with the swing generated in just three weeks of campaigning.
"It's definitely a marginal seat now. It's right in play for the next state election."
Monash University politics senior lecturer Dr Zareh Ghazarian said the 2022 state election and Mulgrave results showed a pattern of Labor losing primary support in traditionally safe seats.
"I think it's the sense of an 'It's Time' factor. The Government is in its third term. There may be a bit of fatigue in the community from this Government.
"I think it's linked to policies rather than personnel."
He noted the Liberals – with a 22 per cent primary vote – were still "far and away from winning this seat".
But they might have a "sense of hope" that there's been a "shift" in Victorian politics after the departure of Andrews.
Meanwhile, independent Cook maintained a high-teens primary vote.
Days earlier, he had a "bittersweet victory" against the Department of Health in the Victorian Supreme Court but was denied damages.
"I can't tell you how many people say how could the Government be wrong and then you and the employees don't get any compensation."
He ran second behind Premier Daniel Andrews in the seat at last year's state election. Since 2018, most of Labor's 16 per cent margin in Mulgrave had been lost, Cook said.
"This sends a message to the Allan Government. I will remain a political problem for Jacinta Allan until she picks up the phone and says we'll talk about it."
He would not be necessarily standing again as an independent, he said. But there's further Supreme Court cases against the Health Department, and Greater Dandenong Council to come.
Garad, a Greens councillor at Greater Dandenong, said the swing against Labor was largely due to voters choosing Greens and Socialists.
"Not only did we hold our vote, but we also increased it."
As for the victor, Foster's climb has been meteoric from councillor in 2020 and mayor in 2022-'23. She celebrated at a small gathering at Noble Park RSL on Saturday.
"It was a great relief but I was very humbled as well to be entrusted by the Mulgrave community.
"It's quite surreal to be now an MP. I think back to my childhood as a little girl with a single mother.
"I never imagined at 42 years old I'd be representing the electorate I've grown up in."
On Saturday night, Foster stayed over with her "very proud" mother and reflected on what had been achieved.
"I'm proud of her for everything she's done for me on her own. I owe her tremendously."