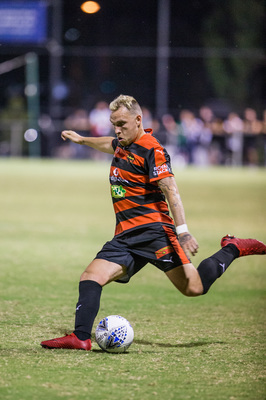 By Hayley Wildes
Brandon Barnes is the best striker in the country outside of the A-League.
That's a statement that has floated around for a couple of years, and after a dominant 2018 season, it's hard to argue against it.
After dominating the National Premier League (NPL) Vic 2 in 2016 and 2017, Barnes had a point to prove this year.
With the Dandenong Thunder having been promoted to the NPL Vic – the highest level of soccer in the state – the English goal-scoring dynamo blew the competition away.
After claiming back-to-back NPL Vic 2 Golden Boot's (competition's leading goal scorer) in 2016-2017, he made it a hat-trick in 2018 by running away with the award in the top division.
A remarkable season saw him score 22 goals – six more than his nearest rival. What makes his prestigious Golden Boot win even more incredible is the fact that Barnes missed four games due to injury throughout the season.
Since joining the club for the 2016 season, Barnes scored a ridiculous 99 goals in 78 games.
Settling into the higher division and claiming the Golden Boot is something that Barnes took in his stride.
"It was something that I always knew I could do and I've always had self-belief which is important," he said.
"With the start to the season that we had and personally not scoring in the first six rounds, being so far behind to begin with, and then to finish six goals clear, it was a great achievement.
"I set a target before the season started of between 10 to 15 goals and as soon as I went past that point, I felt personally that I was flying and they just kept coming.
"It's a great personal achievement, but it goes without saying that it takes the hard work of everyone on the team to get me in a position to score, so a lot of credit goes out to my teammates."
It was a roller-coaster of a season for Dandenong. They didn't claim their first win until Round 7 and there was a coaching change halfway through the season, but the team rallied together and finished the season in eighth – just two points out of the finals.
Barnes talked about the season and challenges faced by everyone at the Thunder.
"The season was a bit up and down for everyone involved, but overall, I think it finished to be a good season considering the position we were in at the start of the season," he said.
"I think everyone was delighted with how far we came and pretty proud of ourselves to see where we finished up."
Despite an indifferent season, the Thunder finished their season on a high note, with a thrilling last-minute 2-1 win over the Melbourne Knights.
And as if the season was going to finish any other way, it was a 90th minute Barnes goal that claimed the comeback win on the road.
"It was good to end the season on a bit of a high with three points and the win," he said.
Club legend Veton Korcari took over the head coaching reigns with 11 games remaining in the season and Barnes acknowledged Korcari's influence.
"Obviously there were a few hiccups early in the season, but as soon as Veton – obviously he is a club legend – took on the role, everyone already respected him and believed in what he could do, so that made our group that bit stronger," he said.
"Even with Veton being a bit of a rookie coach, we all stuck by him and I think he did an excellent job with the boys in his first half year of coaching."
Barnes is a wizard on the pitch and Thunder fans often rise as one when he gets some space to work in, knowing that something special might be just around the corner.
In a season filled with outrageous highlights, Barnes points to the hat-trick against Pascoe Vale in May as his personal favourite.
"I wouldn't have a favourite goal, but there was a game where I scored three goals against Pascoe Vale," he said.
"We were down to 10 men and we ended up winning 3-2 and those three goals probably go down as the most memorable of the season and obviously getting the win as well made it even better."
As the season progressed, opposition defences tried everything to stop Barnes, but it mattered little as he scored his 22 goals in the final 16 games of the season.
With stats and highlights like his, the sky is the limit for Barnes and he believes he has what it takes to make it to the A-League.
"I think that again comes back to me having a bit of self-belief and pushing myself to limits where I feel even more challenged. If that's the A-League or back overseas, I'm willing to put in the hard work to get to wherever I can to improve my football career," he said.
"Being a visa player and having the visa rule with the A-League, that's maybe stopping me a little bit but I'm going to keep working hard, keep believing and hopefully my time will come.
"When they're ready, I'll be ready."