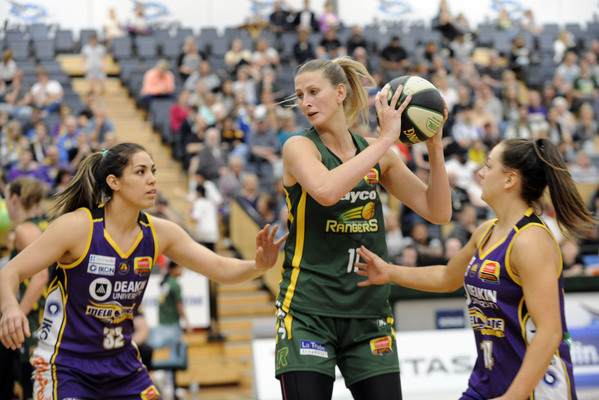 By Hayley Wildes
Despite the best efforts of Carley Mijovic and Bec Cole, the Dandenong Rangers were unable to sustain the fight against the Adelaide Lightning, falling 86-80, at Dandenong Stadium on Friday night.
The Rangers were rolling early as Mijovic drained shot after shot. Just over halfway through the first quarter, Dandenong held a 17-9 lead and at the end of the first quarter, Dandenong's lead was six points, 31-25.
Mijovic's first quarter was an incredible display of shot-making as she piled on 13 points.
The Lightning started to find their groove in the second quarter and despite Bec Cole keeping the scoreboard ticking over for the Rangers, Nia Coffey was on fire for Adelaide as they took the lead four minutes into the quarter and held a slender one-point advantage at the main break, 55-54.
As has often been the case throughout the season for the Rangers, once the second half kicks off, their offence just doesn't show up. This was again the case on Friday night.
Despite solid defence, the Rangers simply couldn't make the shots they so desperately craved in a frustrating third quarter performance.
With the game tied at 66-all with just over three minutes remaining in the term, the Rangers were well and truly in the game but a 7-2 Adelaide run had the Lightning possessing all of the momentum heading into the final term.
With both teams struggling on offence, the Rangers hung around and when Rach Jarry drained a pair of free throws with 2:19 remaining, Dandenong was just two points adrift, 82-80.
Unfortunately, the Lightning was the only team able to score in the final two minutes and the Rangers fell short, 86-80, as Adelaide made key buckets down the stretch.
The Rangers scored just 26 points the second half, highlighting their woes on the offensive end when the game is on the line.
With many of their teammates struggling to score, Carley Mijovic (26 points and 9 rebounds) and Bec Cole (21 points and 3 assists) were Dandenong's most impressive players as they did all they could to keep the Rangers within striking distance.
Adelaide's depth was too much though, led by Nia Coffey (18 points and 3 assists) and Kayla Alexander (12 points and 11 rebounds).
The Rangers fall to 4-6 on the season, with a match-up against Perth on Sunday at Dandenong Stadium from 3pm.