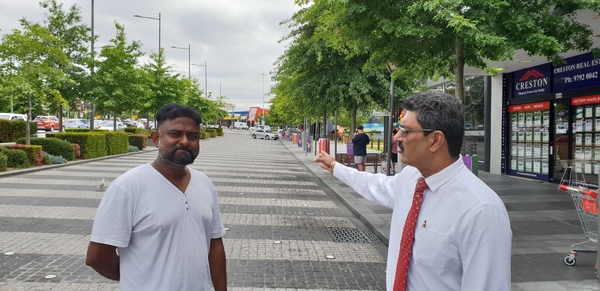 By Cam Lucadou-Wells
A councillor is calling for Dandenong's parking-meter regime to be relaxed, with parts of the 'revitalised' precinct resembling a ghost town.
Traders in parts of Lonsdale Street are reporting a mass exodus of businesses, vacant shops and long stretches of empty parking bays.
In the past year, businesses have deserted Lonsdale Street's northern precinct near Boyd Lane for livelier parts of central Dandenong.
Such as Commonwealth Bank and Westpac branches, Del Real Estate, McLennans Real Estate and a Tattslotto shop.
This close strip of sites largely remain vacant.
Ashton Ashokkumar, of Creston Real Estate, called for discount or free parking – and an extension of the one-hour parking limit in the empty bays outside his shop.
Customers stung by red-hot parking tickets weren't coming back, he said.
With trading life sucked out of the area, there's instead a prevalence of drunks, swarms of filthy seagulls, property damage and putrid rubbish, particularly in Boyd Lane.
"The whole business area is suffering," Mr Ashokkumar said.
"We should do a free-parking trial and at least see how it goes."
PostNet proprietor Ghajan Ghaneshan says his business's front glass door has been shattered several times. He has been broken into three times in 2018 and wants to get out of his lease.
"I'm depressed about it. My business is going down," he says.
His premises backs onto Boyd Lane. At night, the rear garage has been torched as well as blighted by drug litter, copulation and human vomit, excrement and urine, Mr Ghaneshan said.
Star News observed the charred exterior as well as a fishy stench, seagull guano and numerous piles of rubbish fouling the alley.
Cr Jim Memeti said he was going to move for parking changes to help resuscitate quiet areas in central Dandenong.
"A lot of people have been telling me why is Noble Park free, why is Springvale free and in Dandenong they have to pay.
"Maybe we could introduce free parking between 7am to midday, or another alternative."
Cr Memeti said parking officers could perhaps allow a five or 10 minute "grace period" for parking offences.
The council's Greater Dandenong Business group manager Paul Kearsley said the recent shop vacancies were "unfortunate but .. a constant factor in activity centres".
"This is outside the control of Council and the current climate means it is a challenging time for retailers with more competition and online sales."
He said the council was continually looking to improve amenity with artwork installations, such as murals at the nearby park linking Palm Plaza, as well as altering parking rates to help traders.
Victoria Police were aware of issues involving drunken behaviour, Mr Kearsley said.
"Our information is this is not young people but predominantly men aged 35 and over.
"The police have been proactive in responding to these issues and addressing anti-social behaviour."