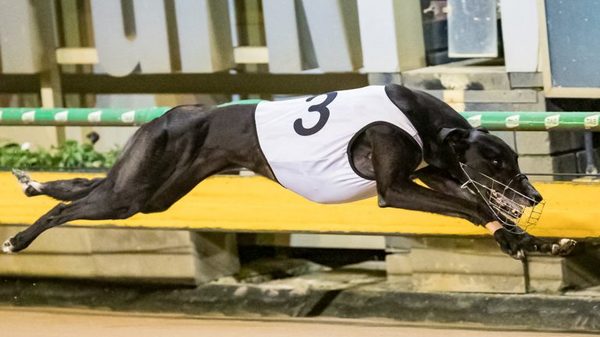 By Mick Floyd
Neo Cleo again showed why she is regarded one of the country's finest chasers with another brilliant victory at Sandown Park last Thursday night.
Lining up alongside another dual Group 1 winner in Dyna Patty, Neo Cleo began brilliantly to lead from Box 3 and, as the chasing pack bunched behind her, she found herself clear entering the back straight. From there, she was never challenged, defeating Jaro Bale by almost six lengths in 29.282 – an identical time she ran last week when second to Whiskey Riot.
Trainer Wendy Neocleous was delighted with the run.
"Very pleased, she again showed what she can do," she said.
"She's coming out as well as she ever has. Last week she went 5.02 and her run from Box 8 was phenomenal, she repeated that tonight and got the chocolates.
"She's so consistent and honest. Whether over 600 metres or 500 metres she races against the best dogs and she just loves racing. She's a good little girl."
Neocleous confirmed that she will target September's 595-metre Speed Star event in preference to the 515-metre edition of the series. She currently sits in second place on the 595-metre leaderboard with a time of 33.976.
"She won the last one here, and she's a strong middle distance dog," she said.
"It's very hard to find 600-metre races for her because she's a Grade 1 dog on both city tracks, so we'll just play it by ear and keep her ticking along until the Speed Star comes along. That's what she'll be targeting."
Neo Cleo has now won 35 of her 76 career starts – including four at Group level – and over $430,000 in prize money. With her fourth birthday looming in January, Neocleous also revealed that preparations are already being made for her post race career.
"She's off the pill now so as soon as she comes on season she'll be mated – she has nothing else to prove," she said.
"She'll probably go to Fernando Bale. He's thrown to everything so hopefully she can throw something as good as her."
The Speed Star will be run on Sunday, 15 September.
Jason and Jessica Sharp claimed the training honours on the night, landing their first city treble.
After Philadelphia Pip and Mod Squad claimed the two opening events, the team had to wait until the last to complete their treble.
It was also a good night for trainers Lisa Cockerell and Jason Thompson, with both leading home a winning double.