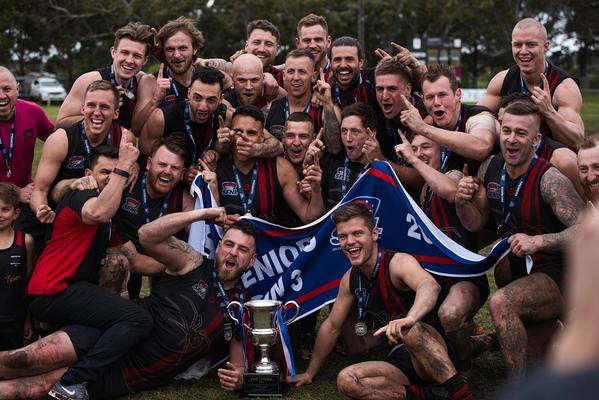 By Tyler Lewis
The date of 8 September 2019 will go down in folklore for the Hampton Park Football Club – not only as the date on which the Redbacks broke their 21-year senior premiership drought, but also when the reserves boys also claimed the ultimate prize only hours prior to that.
The Redbacks were easily the best side all year in Southern Football League Division 3 and seemed to be on the path to redemption following the straight sets defeat last season in September, and a tough couple of years for the football club in general.
Clayton skipper Jayden Gilmour put the first on the board for Clayton at the third minute mark of the opening term, before the Redbacks kept their opponents goal less for the remainder of the match, 9.11 (65) to 1.5 (11).
Peter Dye booted another two, as did Cameron Williamson and Phill Nanfra, while Nathan Carver was named best-on-ground in a dominant finals performance.
In Division 2, meanwhile, the Doveton Eagles continued their stirring finals form in the preliminary final against Murrumbeena, winning 12.14 (86) to 10.10 (70).
After kicking only six behinds in the second, the Eagles bounced back to kick 12.8 from then on.
Former high flying Melbourne AFL forward Russell Robertson booted another four majors, while Nick Battle was best afield yet again for the Eagles.
For Murrumbeena, Matthew Lello backed up his performance last game with another strong effort.
The fired-up Eagles will now face off with Springvale Districts in the grand final with a full head of momentum.
And in the Division 4 grand final, South Yarra caused an almighty boilover in the big dance to secure the premiership, defeating Lyndhurst, 7.6 (48) to 5.6 (36).
It isn't often a side wins a grand final after losing the last half of the match, but for South Yarra it will be a treasured statistic to be buried into the Lions' club history.
The Lions jumped the Lightning early and maintained the flow in the second term, and although the Lightning pushed for a late surge, South Yarra held on for the 2019 silverware.
Shaheen Merchant was instrumental for the Lions, while former SFL chief executive Dave Cannizzo booted his first two majors for the year when they mattered most.
It was a dark day for the Lyndhurst Football Club, going down in both senior and reserve grand finals, however it was an outstanding year nonetheless and the club will no doubt be a force to be reckoned with next season.