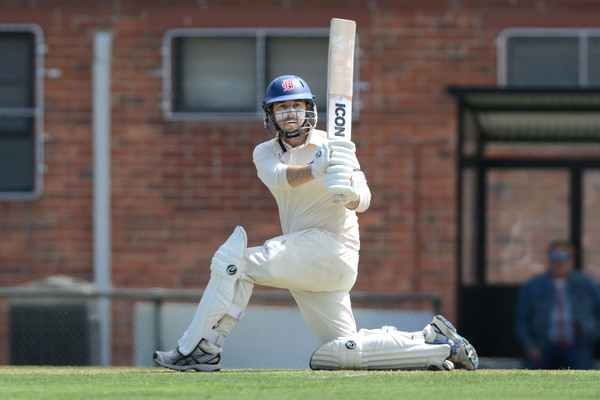 By Tyler Lewis
At just 31, Brett Forsyth has already achieved the script of childhood dreams at the crease.
Behind a trademark application of zinc and a truckload of runs, is a man many would argue is unlucky not to be wearing a different navy blue kit than the one he dons on a Saturday at Shepley Oval.
As a six-year-old, Forsyth was gifted a Gray-Nicolls Dynadrive for Christmas, the first bat of many, but one that begun the avalanche of runs.
Starting cricket to follow in the footsteps of his dad, it didn't take long before that cricket bat was up in the air, registering his first senior century at 12.
"My dad used to captain some of the teams on synthetic, they often had people who could only play day one or two, or were late, at the races or at the TAB in those days, so I would sub field," he said.
"I would play in the morning and go down and watch my dad, as soon as someone was unavailable I would jump on.
"From 10 or 11, I would play juniors in the morning and seniors in the afternoon, my junior form was good and I guess one day it just carried over.
"The other team thought it was humorous for a while, this little kid was scoring runs but after a while they were heckling me and I was giving it back.
"I was pretty happy about it because at that age you are pretty competitive and none of the other guys in the team had done that and I remember batting with a 14-year-old who made 50, we were happy to win the game but to set ourselves apart from others at that age."
From the first three-figure milestone, Forsyth was immediately on the Panthers radar – first pulling on the Dandenong threads within the next three years, along with that other navy blue uniform.
"Officially, I crossed over when I was 15, mainly keeping and batting in the twos, and then in the following season was my debut season in the ones when I was 16," he explained.
"I missed under-13s state, I didn't really try out, I made 15s, then Australian under-16s, and we toured India.
"Made Vic 16s, 17s, 19s, was pretty unlucky not to make the World Cup squad in 19s in my opinion, based on the performances during that tournament."
While moving from all possible representative sides, the trip to India is a cherished one where he bonded with a well-known cricketing name.
"It was a bit of a shock (playing in India)," he said.
"I enjoyed it, was good to see something different.
"Very different, was good to see players from other states that you had probably wanted to get out and not see them do well to becoming very good friends with them.
"See how much a different country loves cricket as much as they do, and differently than we do out here, we like it and we do it seriously but anywhere in India there are games of cricket going on – any surfaces.
"It was cool to wake up in the morning and see hundreds and hundreds of people playing cricket.
"(They play) before it gets too hot and then they are out as soon as sun goes down.
"I got close to Phil Hughes on that trip. As a 15-year-old, for three weeks, you make good friendships, and I followed his career closely.
"He (Hughes) made a lot of runs; I was always interested to see how a career progressed in a different state. He was great to play against, very cheeky."
Playing in the Victoria second XI (Toyota Futures XI), Forsyth averaged 50.5 for the big V, and while making persistent runs at Victorian Premier Cricket level, the opening batsman still couldn't earn a contract extension, even after a knock of 46 in his final dig for Victoria.
"I got my first rookie contract when I was 19," he said.
"(In my last game) I remember the coach said 'we are playing on a wicket with a slope, the bowler won't be able to swing it up the hill', I said 'righto no worries'.
"First innings, I was feeling good, think I only made two or something and I left a ball that was shaping up the hill and got clean bowled.
"I knew it was going to be one of my last games, so second innings I tried to go out with a bang and tried to score a few runs, ran myself out and that was the last innings I had.
"I think when you are in a state squad or in an industry that is cut throat, you get the feeling whether you have a cross through your name or whether you have a free run at it and are being backed to do well.
"For me, that was the last year of my contract, it had been made clear to me through actions not words that I was on borrowed time.
"The last year on my contract, after Christmas I looked at my options.
"As a contracted player, if you are being left out of second XI teams that you were previously in, at training, not batting in the nets against the bowlers, there is no positive reinforcement of what you are doing.
"For me it was the best option to exit before the exit came, I would still train once a week and was still putting my hand up for selection, playing first XI cricket for Dandenong, I mean that year we made the final and I was the leading run scorer for the state but my contracted wasn't renewed.
"I kind of knew, the writing was on the wall."
While knowing the end of his contract was near, Forsyth felt the mental impact the non-renewal of his contract wasn't as tough due to his maturity and the family of support he had at Shepley.
"For me it was positive, the fourth year of my contract because I was back playing with my friends, mentally there was no challenges, it was the year before when I was in unfamiliar surroundings and not making runs," he said.
"I went to Prahran to play a season under the encouragement of some of the people at Cricket Victoria.
"I changed clubs, it didn't work out well, had a tough season, I think I made eight ducks and I didn't make many runs.
"I was dropped from seconds that year and fell away, you can look at it in two ways, that wasn't great but then I picked myself up.
"Mentally it gets easier as you get older, you realise it isn't life or death.
"When you are younger, trying to make a career out of it and a lot of your self-worth is in performing, when you get older you just realise it is a big part of who you are and isn't the be all and end all."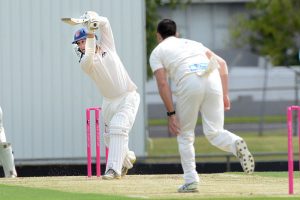 In recent times, Forsyth has been a regular name at the top of the order in the Premier Cricket team of the year, and most recently becoming the first ever Dandenong player to claim the Ryder Medal in season 2018/19, but no state recall.
"Some other people around me would say that, would say I was unlucky," he said.
"I had a conversation in the off season of a few people in the state system and that was the message, that I have been unlucky.
"There were a couple phone conversations asking what I needed to do and they said I was unlucky.
"I was in the state squad at a really good time, Brad Hodge was there, he was pretty much my idol growing up, went to the same high school as him.
"I know there was conversations whether to bring me in or not, whether they would give me an opportunity, I guess unlucky is the word."
For Dandenong, the reigning Ryder Medallist has a handy knack of turning a century into a massive knock, and did so for Victoria in 2010 when he notched an unbeaten 158. The urge to push on came from an unexpected conversation with a club great after a precious milestone.
"I guess as an opening batter, you are going to miss out a lot of the time, hopefully not, hopefully you do your job," he said.
"But sometimes you are going to so when you get in you want to make it count and go big.
"I think when you are chasing a big score, which I think a few of those hundreds were, if you get out there is no guarantee you are going to win, you have to make sure you keep going, that personal milestone is ticked off but the team one hasn't been so that's what drives you.
"My first premier hundred was against Camberwell, I think I was 18, I got to 100, pretty quickly, not easily but quickly, quicker than I do now.
"I went 100, then four, three, out – Warren Ayres, who was a really good mentor, he said 'what are you doing?, I said 'what do you mean? I just got my first 100', he said 'yeah but the team still needs runs'.
"He told me 'that is silly because as a young opening batter you are going to miss out, when you get in and get a 100 you need to maximise that because at the end of the year when they look at who has got runs, who are we going to pick they are going to look at numbers, you need to be more selfish in terms of that, but unselfish in terms of when you get in you make them get you out, don't give it away'."
Forsyth along with his skipper and opening partner Tom Donnell have been a nightmare to bowl to since they became a cemented pair at the top. In the time they have spent together at the crease, the two have put on over 50 on 33 occasions and over 100 16 times, including the club record of 241 before the first wicket.
Donnell is a person who Forsyth feels at home with out in the middle and it all began for Forsyth watching the now Panthers skipper do what he does best when he was only a teenager.
"Our methods are different, I think I play with more of a straight bat, he more horizontal," he said.
"In that there is kind of two different methods going against the opposition bowlers at the same time which is handy.
"We have a good understanding of what the other is trying to do, we are both passionate about doing well for our club, we have a lot of things that tie us together and make us complement each other.
"I have known him for the best part of 17-18 years, we went to school together, I guess I looked up to him.
"We played a competition, he was captain, I was in year 9 or 10 and he was in year 12, we ended up beating Scotch in the final, he made 140 and we enjoyed a few celebrations and from that moment on he took me under his wing.
"I was at Dandenong first and he crossed over, I think probably one of the reasons he crossed over was Warren Ayres but he knew a lot of the younger players that lived in the area.
"Since that moment on we have enjoyed each other's company on and off the field, it is still a great thrill being able to open the batting with someone who is so good at what they do.
"They (opposition) think he is a flashy player, some of his best innings have been in finals, under pressure, batting all day, being hit, which is not what he is renowned for.
"If you can do it two ways which he can, I think he has one of our fastest 100s as well. Cam (Forsyth) and I, and a few others think his best innings is against Carlton, they had Ryan Sidebottom leading a really good attack on a dicey wicket, and he batted all day for 95 not out and got hit a few times.
"Anyone that can do that and then get a 100 off 50 balls is just a really good player."