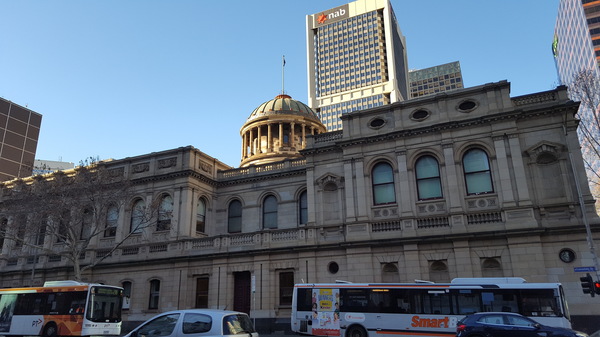 By Cam Lucadou-Wells
A Hallam man has failed in his appeal against a nine-year jail term for a frenzied stabbing of an "entirely innocent" man outside a Noble Park party.
Michael Lukudu, 32, was guilty of intentionally causing serious injury on a victim who he chased down and stabbed 11 times with a knife on 1 October 2016.
He argued at the Victorian Supreme Court of Appeal that the sentence and the six-year-and-nine-month non-parole period were "manifestly excessive".
On 6 November, Justices David Ashley and Richard Niall found the sentence was "severe" but not "wholly outside the range so as to be manifestly excessive".
The critically wounded 24-year-old victim suffered an "appalling catalogue" of injuries, they stated.
The man required 40 stitches, nine blood transfusions, abdominal surgery and treatment for a collapsed lung.
He remained in intensive care for several days, unable to return to work for several months.
The two judges noted that the maximum jail term for the offence was 20 years.
"The intentional infliction of serious injury by stabbing an entirely innocent victim multiple times with a knife is an extremely grave offence," the judges stated.
"The knife was produced by the applicant when he was the aggressor and under no threat."
Lukudu argued in mitigation that he'd pleaded guilty early, didn't have an extensive criminal record, and had never previously been in prison.
He'd also been exposed to considerable violence, trauma and racism as a refugee child in Sudan and Egypt.
Last year, sentencing judge Mark Gamble of the Victorian County Court had dismissed Lukudu's claim that the PTSD played a role in the stabbing.
There was little likelihood that the victim would take control of the knife "that Mr Lukudu was wielding with such ferocity", Judge Gamble had stated.
"The two men ended up on the ground and then once he was in a position of physical superiority over the victim, Mr Lukudu immediately launched a savage, cowardly and sustained attack on the victim with the knife.
"I simply do not accept the account … to the effect that he was afraid that the victim was going to get the knife and use it to stab him."
A forensic psychologist had concluded that alcohol as well as PTSD contributed to the attack. "It was likely the offence would not have occurred if the applicant had been sober."