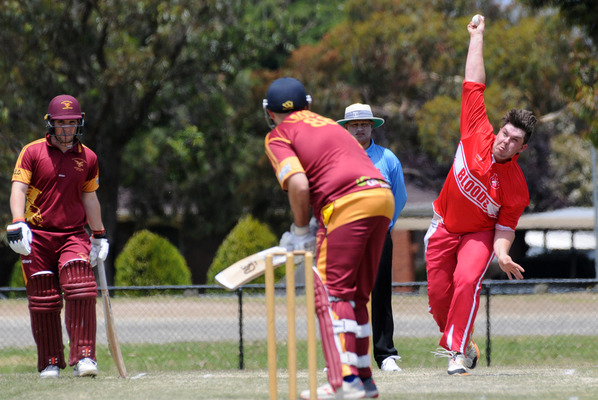 By Nick Creely
What a season it's been for Springvale South overseas pro Ateeq Javid so far.
The Bloods skipper – who plays for  Leicestershire in the County competition – is making a serious splash in the 2019/20 Turf 1 season, and once again provided his side with a match-winning knock, this time against Hallam Kalora Park at Frawley Road.
The win was built off yet another solid bowling performance from the Bloods, with spinner Jarryd Straker (3/36) once again bamboozling the opposition as the Hawks scrambled its way to 7/152 off 40 overs. Mitch Healey (1/19) was also impressive in his Turf 1 debut.
Classy top order bat Jagveer Hayer got his first meaningful score of the Turf 1 season with a well-made 58 to help set the total up.
Despite the Hawks managing to snag important batsmen Nathan King and Ryan Quirk without too much damage, Javid cracked an unbeaten 75 off 115 balls, sending five balls to the boundary in the classy innings, while fellow recruit Akshay Ballal (47 not out) also showcased his power with the blade in a comfortable win with six overs to spare.
The unbeaten half-century lifts Javid to an astonishing 527 runs at 105.4 across all formats, with just two scores under 50 this year as his side finds itself top of the table.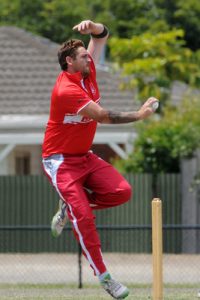 Park Oval, meanwhile, saw yet another genuine Turf 1 blockbuster involving reigning champs Buckley Ridges, who held off a brave Narre South in a typically high-scoring affair.
The Lions came into the game on top of the ladder and blasted 226 after winning the toss and batting, with impressive bat Rumesh Rangana cracking a 65-ball 70, sending five sixes sailing over the boundary in a devastating knock.
Cameos from Matt Brooks (45), Kyle Hardy (35) and Jawed Hussaini (30) were crucial as the Lions set themselves up to defend its total against a Bucks' batting line up missing Daniel Watson.
It was the worst possible start for the home side, which lost superstar South African David White for a rare third-ball duck, but like champion sides do, found a way to lift to another level when challenged.
The Bucks were 4/58 after a whirlwind spell from seamer Tim Phillips (3/30), but slowly but surely got back into the contest through crucial knocks from Troy Aust (41) and Greg Todd (59 not out), who showcased their immense leadership and composure under pressure to turn the game around.
With the Lions charging in hard, Jerome Jones (41 off 24) flung the blade hard to bring the Bucks into a winning position, before Suren Ekanayake (27 not out off 14 balls) put some icing on the cake as the champs got the runs with three overs to spare.
But the visitors – who have been absolutely brilliant in their taste of the top-flight – proved that they'll be a hard side to topple as the year progresses, and can take great confidence out of the performance.
Berwick were another side to keep its strong form going with a comfortable win against North Dandenong at Lois Twohig Reserve.
The Maroons were held to just 105 in under 38 overs after winning the toss and batting, with quick James Wilcock (3/21) and leggie Ruwantha Kellapotha (3/32) proving a hard task to master.
A ripping new-ball spell from Maroons seamer Matin Sultani (3/19) kept the game alive for a while to rip out the Bears' top order early, but skipper Matthew Chasemore (55 not out) once again held his nerve to comfortably get the visitors home by five wickets.
Chasemore – who won the Wookey Medal for Cranbourne in 2015/16 – is averaging 123.5 with the bat so far this season, helped by two instances of him carrying the bat from the top of the order.
And Heinz Southern Districts kept in touch with the top-four with a strong victory against St Mary's.
The Saints whacked 192 off its 40 overs after electing to bat on its home deck, with Lewis Palmer (52) contributing his first half-century of the season.
But it was the clinical nature of Udara Hettige (65) from the top that proved the decisive factor, whacking an aggressive half-century for the Cobras to guide them to a three-wicket win.
With just two rounds to go, Berwick will host St Mary's at home in a two-day round starting this Saturday, North Dandenong take on Springvale South at Alex Nelson Reserve, HSD host Buckley Ridges at Reedy Reserve, while Hallam Kalora Park will be hoping to get its season back on track against Narre South away from home.
| | | | | | |
| --- | --- | --- | --- | --- | --- |
| TURF 1 LADDER | W | L | D | PTS | % |
| Springvale South | 4 | 1 | 1 | 27 | 1.2212 |
| Buckley Ridges | 4 | 1 | 1 | 27 | 1.0643 |
| Berwick | 3 | 1 | 2 | 24 | 1.9398 |
| Narre South | 3 | 1 | 2 | 24 | 1.2071 |
| Heinz Southern Districts | 3 | 2 | 1 | 21 | 1.7289 |
| Hallam Kalora Park | 1 | 3 | 2 | 12 | 0.4868 |
| St Mary's | 0 | 4 | 2 | 6 | 0.5418 |
| North Dandenong | 0 | 6 | 1 | 3 | 0.4032 |
TURF 1 ROLLING TEAM OF THE YEAR
| | | | | | | | | |
| --- | --- | --- | --- | --- | --- | --- | --- | --- |
| | PLAYER | CLUB | RUNS | AVG | HS | WICKETS | AVG | BB |
| 1 | Matthew Chasemore | Berwick | 247 | 123.5 | 134* | N/A | N/A | N/A |
| 2 | Ateeq Javid | Springvale South | 331 | 110.33 | 110 | N/A | N/A | N/A |
| 3 | Morteza Ali | Narre South | 206 | 41.2 | 125 | 7 | 16.14 | 5/11 |
| 4 | David White (capt) | Buckley Ridges | 234 | 46.8 | 81 | N/A | N/A | N/A |
| 5 | Jordan Cleland (wk) | Berwick | 141 | 47 | 93 | N/A | N/A | N/A |
| 6 | Eranda Ekanayake | Heinz Southern Dist | 232 | 46.4 | 77 | N/A | N/A | N/A |
| 7 | Michael Davies | Heinz Southern Dist | 124 | 31 | 46 | 10 | 12.8 | 4/11 |
| 8 | Jerome Jones | Buckley Ridges | 164 | 41 | 97 | 13 | 16.31 | 5/45 |
| 9 | Akshay Ballal | Springvale South | 67 | 22.33 | 47* | 12 | 12.33 | 6/14 |
| 10 | Brendan Rose | Berwick | 13 | 6.5 | 7 | 10 | 12.8 | 5/29 |
| 11 | Jarryd Straker | Springvale South | 10 | 5 | 7 | 13 | 13.23 | 4/22 |
| 12th man | Ruwantha Kellapotha | Berwick | | | | | | |