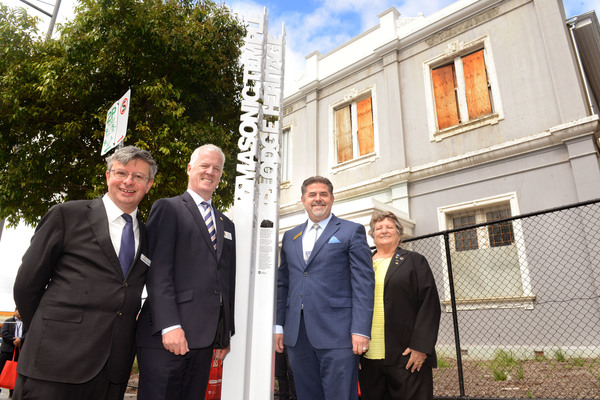 -
The first sign of restored life has sprung at the site of what will be Dandenong's newest art gallery.
At the site on Mason Street are currently the Masonic Temple ruins, regarded as significant heritage and an example of early-1900s achitecture.
On 4 December, Greater Dandenong mayor Jim Memeti and Freemason representatives unveiled an interpretive sign paying tribute to the history.
The imposing two-storey building was home to Freemason members until 1991.
Greater Dandenong community services director Martin Fidler said it was important to acknowledge the history before the building undergoes a major renovation in 2020.
"It's one of Dandenong's most recognisable heritage buildings and it will be wonderful to see it bought back to life as the Greater Dandenong Gallery of Art," Mr Fidler said.
The gallery will showcase local and touring exhibitions and artists and provide a space for community events, he said.
"The new gallery will host a dynamic exhibition program that speaks to diverse audiences, both locally and in the wider regions."
The works start mid-next year and are expected to run about 18 months.