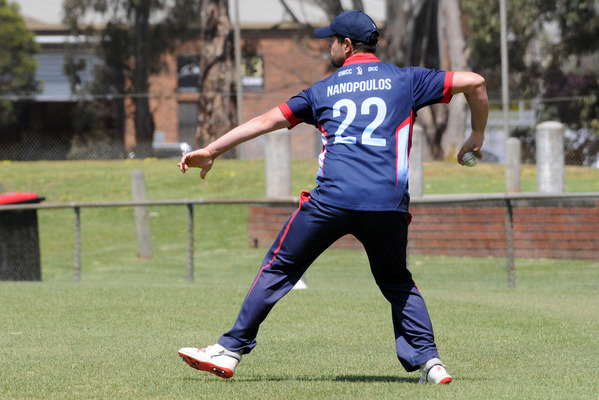 By Tyler Lewis
It was a sense of déjà vu for Dandenong as it fell millimetres from victory in its first encounter after Christmas.
Unfortunately for the Panthers it has been a similar story to many games through this season, and it very well could be the margin between them and finals cricket.
In its match on Saturday against Fitzroy-Doncaster, the Panthers were sent in on a slow green track in overcast conditions.
After losing openers Brett Forsyth (10) caught behind and skipper Tom Donnell (7) to a dubious leg before decision, the Panthers were in need of a rebuild.
Ed Newman and Cam Forsyth slowly but surely resurrected the innings before Newman was victim of the sensational arm of Victorian Premier Cricket champion Peter Dickson.
With a consistent fall of wickets inside the first 15 overs, Forsyth combined with James Nanopoulos to build a competitive total.
When Nanopoulos rocked back and pumped a short ball to the fence only metres off the ground; the games trajectory, as it has seemed all season, was in his hands.
After the slow start, the Panthers had clawed back into the contest through Forsyth (25) and Nanopoulos (30) who pushed the total to 3/89 without risk at the half-way point.
Shortly after the drinks break was the passage of 10 overs that cost the Panthers dearly, losing the set Forsyth and Nanopoulos before the reliable Comrey Edgeworth also found himself in the shed, as Dandenong lost 3 / 4.
A fighting performance with the bat from Jacques Augustin against his old side and Pete Cassidy nudged the Panthers to 144, short of the mark the Panthers would have wanted at drinks, but something for the bowlers to work with.
The Christmas break proved to have no impact on Nanopoulos as he continued on his merry way with the ball, claiming three of the first four wickets to equal the Dandenong Cricket Club record of 313 victims.
The Lions coasted along ticking over the run rate until Pete Cassidy gave his side a sniff, snagging two wickets in one over to inject some life into the Panthers.
Unfortunately for Dandenong, the season of heartbreaking losses continues into the New Year as the Lions hung on to a two-wicket victory – the third defeat of the season by two wickets or less.
Close losses have seemed to be the story of the Panther's season, skipper Tom Donnell said his side has often been on the good side of the close matches and understands they need to be better if they want to win games in tight moments.
"It is frustrating, there have been a few games we thought could have gone either way," he said.
"We just haven't been good enough, or haven't had luck, we just haven't been able to win.
"This year it seems we haven't had our luck but that is the way cricket goes, when games are close you need a bit of luck and we haven't had that this year but we haven't played well enough to be honest.
"We just need to improve and play the key moments a bit better."
At the start of the year, the Panthers' bowling was heavily doubted after the retirement of club work horse Darren Pattinson, but Dandenong find themselves in unfamiliar territory, struggling for performances with the bat.
"It has been a difficult year we have had as batsmen," Donnell said.
"The wickets we have played on have caused some uncertainty in the group, not making excuses we need to be better than that.
"We have had a lot of guys that have got starts but not been able to go on, we have left a few runs out there and been in really good positions at times and then threw it away, even on Saturday we weren't in a bad position.
"I thought batting first was always going to be difficult on that wicket and we were in a decent position at drinks, but we fell over in the 10 overs after drinks and it cost it dearly.
"When we have had a bad patch, it has been an extremely bad patch and in cases it has cost us games, we need to be able to hold teams and get momentum back our way."
Dandenong will face Ringwood at Shepley Oval this weekend in another one day match.
FITZROY DONCASTER v DANDENONG
FITZROY DONCASTER WON THE TOSS AND ELECTED TO FIELD
DANDENONG
BATTING
HOW OUT
RUNS
BF
B.Forsyth
c Banthorpe b Griffiths
10
19
T.Donnell
lbw Griffiths
7
22
E.Newman
run out (Dickson)
12
34
C.Forsyth
lbw Alavi
25
38
J.Nanopoulos
c Banthorpe b Fletcher
30
43
C.Edgeworth
run out (Korkolis)
0
7
P.Cassidy
lbw Fletcher
21
54
J.Augustin
lbw Alavi
16
38
J.Shaw
b Smith
1
4
S.Randiv
run out (Alavi)
13
16
A.Buch
not out
2
6
Extras
7
Total (46.5 overs)
144
BOWLING
O
M
W
R
S.Elliott
8.5
2
0
16
G.Griffiths
8
2
2
28
K.Smith
8
2
1
21
N.Fletcher
10
0
2
33
E.Alavi
10
2
2
24
J.Rudd
2
0
0
16