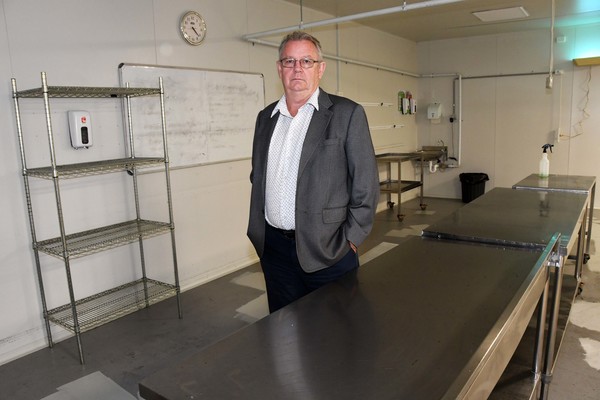 By Cam Lucadou-Wells
PERSON OF THE YEAR
"They are going to be held to account. We will get justice".
Those are the determined words of business owner Ian Cook – who is fighting a David-and-Goliath battle against Greater Dandenong Council and the State Govermment.
He says his Dandenong South commercial kitchen iCook Foods was effectively destroyed when it was shut down by health authorities and 'named-and-shamed' over the death of an elderly hospital patient.
Mr Cook, who is Star Journal's '2019 Person of the Year', has led a loud and determined campaign to clear his name.
He is pursuing $26 million in damages against the council and the Department of Health and Human Services over the 35-day shutdown in February.
Eight months on, all 96 food-safety charges were dropped by Greater Dandenong Council. The council cited the $500,000-plus potential cost of pursuing the case.
All too late for Mr Cook's 41 staff who lost their livelihoods.
And for the family business built over the past 30 years, the market leader for supplying Meals on Wheels services in Victoria, who had passed every previous audit, Mr Cook says.
The charges and health inspection were "a set-up from day one", he says.
"There is not a single scientific report to show we were wrong or breaking any laws.
"We were destroyed on the alleged basis of a brought-in (smallgoods) product. It would be like closing down Coles for something similar."
Mr Cook has a team of 13 people working on his case, including former police fraud squad detectives, accountants and metadata experts to "clinically and methodically" comb through the council's evidence.
Among the most dramatic accusations is that a visiting council inspector planted a slug on the factory floor – a claim that Greater Dandenong has "absolutely" rejected.
"We'll be sticks in the mud," Mr Cook's son and managing director Ben Cook says.
"You don't come in and think you can wreck a business. We have got the inner fortitude to stand up to a bully – you stand up to them and often they don't fight back."
Victoria Police are also said to be probing whether the inspection evidence was fabricated.
At the cost of $150,000, Mr Cook is applying to the Supreme Court for access to the inspector's report – the supposed basis for the Chief Health Officer in shutting down the factory.
So far, the department has rejected FOI requests for the report, Mr Cook says.
Mr Cook says the council and State Government were, at the least, conflicted due to their links to rival business Community Chef.
Greater Dandenong is a part-owner of Community Chef, which has received more than $10 million of state funding.
Community Chef, like iCook Foods, supplies Meals on Wheels services. Mr Cook says the shutdown of his kitchen clearly benefited Community Chef to sweep up his lost contracts.
"I hate conspiracy theories – but why else would you do something like that?"
Greater Dandenong Council has been clearly unnerved by the campaign. Recently, it stated that iCook Foods was using media to "beat up" its claims.
"If, as it frequently says to media outlets, it has evidence of some wrongdoing it should make that evidence available to council," the council told A Current Affair.
"The evidence to date confirms no wrongdoing of any kind by Greater Dandenong City Council."
`