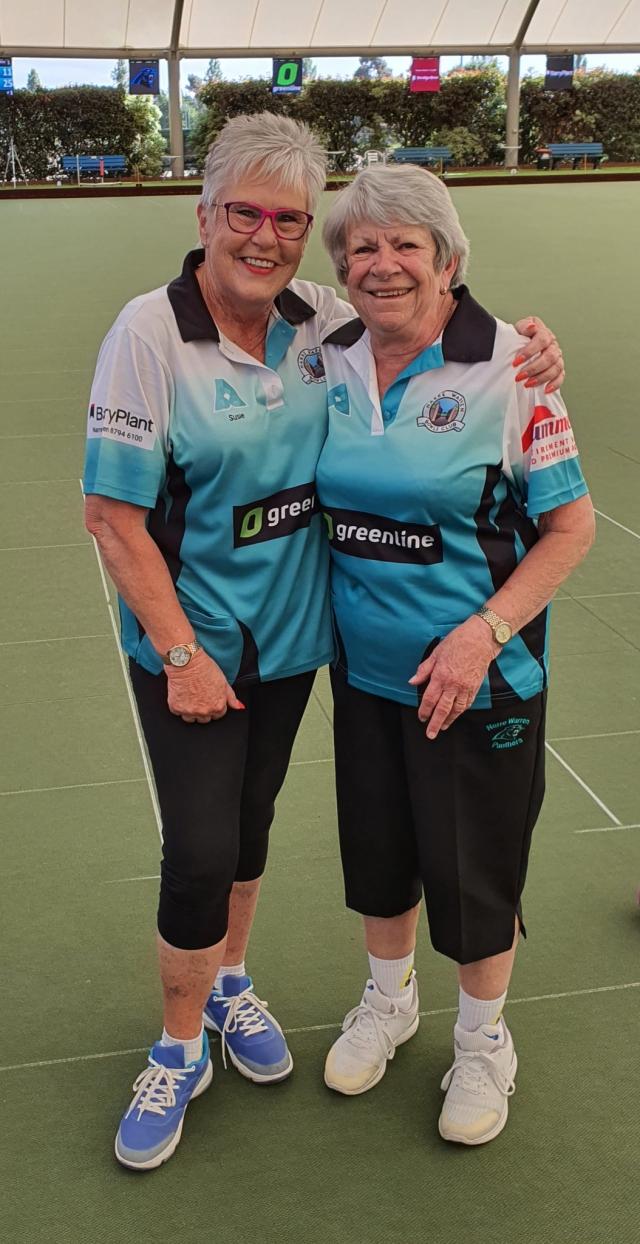 NARRE WARREN BOWLS
It was another big week for Narre Warren Bowls Club with the weekend teams winning five out of six matches and the only loss was by three shots.
The most encouraging aspect of these results is that all away teams won, which has been our only weakness since the season began.
Narre Warren's number-one side continues to dominate the opposition with another huge win away against the very strong Dandenong Club.
This is the third time in five matches so far that the Panthers have more than doubled the opposition scores!
Rink of the Day (and Rink of the Round) went to the side of Scott Butterworth, Peter Butterworth, John Pentreath and Chris (CJ) Johnson with 24 shots up…a great effort.
The Midweek sides also had great results with three of the four teams recording wins and both away teams having resounding victories. Rink of the Round was Len O'Brien (a blind bowler who last week was honoured by Julian Hill M.P. with a Volunteer Award in the Electorate of Bruce), Peter Wilson, Peter Anderton and skipped by Steve Roy.
All 10 Narre Warren Pennant teams are enjoying a strong season so far with more than a third of the season already completed.
We are still experiencing strong membership growth and our latest recruit is Lynne Wood who has been a Sandbelt representative in the past and recently trialled for Sandbelt Region selection once again.
Lynne was one of three players who were successful in winning their way through to the Australian Women's Indoor Singles competition which was held at Tweed Heads Bowls Club recently.
Lynne had a very successful competition at Tweed Heads and defeated Chloe Stewart who is a current Australian representative and one of the best performing female bowlers on the National scene.
A big welcome Lynne to the Panther Dome, it is great to have you on board with us.
The Club Singles were recently run and won by our Coach Cameron Bell who defeated Geoff Bailey in the Mens competition, and Susie Menzel who defeated Lorraine Marsden in the Women's Competition.
Both matches were of a very high standard and we congratulate both winners and runners up on progressing through to the finals of the Club's most prestigious events.
Saturday Pennant
Round 5: 18 November 2023
Side 1: (Away) defeated Dandenong Club 115-53
Points: 18. Ladder: 1st
Best rink: Scott Butterworth; Peter Butterworth; John Pentreath and Chris Johnson: +24
Side 2: (Home) lost to Pakenham 69-72
Points: 4. Ladder: 3rd
Best rink: Michael Black; Fernando Mateos; Allen Fary and Wilma Stevenson: +5
Side 3: (Home) defeated Bentleigh 86-64
Points: 14. Ladder: 4th
Best rink: Pauline Blake; David Entwistle; Paul Stevenson and Peter Wills: +14
Side 4: (Away) defeated Upwey Tecoma 74-71
Points: 14. Ladder: 1st
Best rink: Reg Young; Brian Exton; Robert Beare and Norm Hosmer: +8
Side 5: (Home) defeated Hampton Park 89-74
Points: 14. Ladder: 7th
Best rink: Janice Moran; Luka Klarica; Colin Blyth and Peter Lister: +19
Side 6: (Away) defeated Churchill Waverley Golf 83-74
Points: 14. Ladder: 3rd
Best rink: Graham Saunders; Tom Wright; Mario Micallef and Michael Walther: +11
RINK OF THE ROUND:
Side 1: Skip Chris Johnson +24 (Div 2 Sect 8)
Midweek Pennant
Round 4: 14 November 2023
Side 1: (Away) defeated Beaumaris 68-52
Points: 14. Ladder: 1st
Best rink: Isobel Partington; Jim Stewart; Fernando Mateos and Zak Storm: +25
Side 2: (Home) defeated Berwick 74-52
Points: 16. Ladder: 7th
Best rink: Judith Naughton; Les Clement; Lorraine Marsden and Wilma Stevenson: +17
Side 3: (Home) lost to Hampton Park 61-48
Points: 1. Ladder: 5th
Best rink: Karen Anderton; Dean George; Robert Beare and Lindsay Gibson: Draw
Side 4: (Away) defeated Burden Park 68-40
Points: 14. Ladder: 3rd
Best rink: Len O'Brien; Peter Wilson; Peter Anderton and Steven Roy: +26
RINK OF THE ROUND:
Side 4: Skip Steven Roy +26 (Div 5 Sect 8)
-Eric Sydenham-