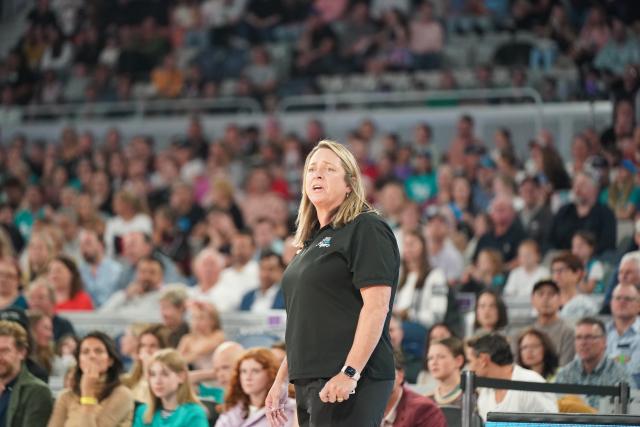 By Marcus Uhe
Defence dominated a low-scoring slug-fest in Adelaide between the Southside Flyers and the home-town Lightning on Saturday night that saw the Flyers go down by 11 points.
In a game with the lowest combined points total in the WNBL's new season to date through the opening three rounds, Southside suffered a 67-56 loss, thanks in large part to a poor second quarter in which they were outscored 25-11.
With honours largely even after the first quarter, the Flyers fell into a rut in the second term that they simply couldn't shake.
Turnovers on offence were leading to simple baskets on the fast break at the other end of the court for Adelaide as both key components of its game appeared to be firing on all cylinders.
The Flyers could generate shots, but simply couldn't convert, making just two field goals in the final five minutes of the second quarter, one from Carley Ernst coming on the second quarter buzzer. where the Lightning had no such troubles, taking a 13-point lead into the long break.
Scoring became harder and harder in the third quarter as both teams intensified their defensive output.
Adelaide was held to a single field goal and the Flyers only three in a dour 10 minutes of action.
Despite a lid on the Lightning's basket, Southside was unable to make inroads as Adelaide converted at the free-throw line, and held a 12-point lead at the final break.
Adelaide managed a basket on the opening possession of the quarter to settle some nerves before the Flyers answered with the next eight points, five coming from the hot-hand of Nyadiew Puoch, before Adelaide found its range.
Adelaide managed to match the Flyers for the remainder of the quarter, however, to prevent Southside from getting too close.
Both teams shot a dismal 32 per cent from the field but the three-point shooting was where the sides separated, Adelaide converting 27 per cent of its three-point shots and Southside just nine.
Mercedes Russell continues to produce for the Flyers with another double-double of 14 points and 17 rebounds.
Continuity continues to be a problem for the Flyers, playing three different starting lineups in the first four games as they look for the magic formula early in the season.
They return to the State Basketball Centre on Wednesday night to face Perth.