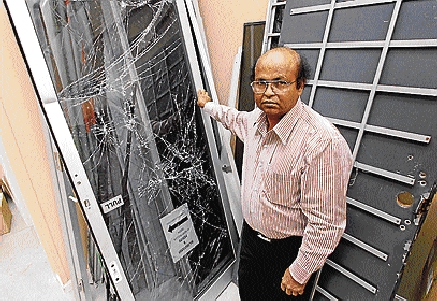 By CAMERON LUCADOU-WELLS
A EUMEMMERRING computer retailer could have to close shop rather than endure one more laptop burglary.
Landmark Computers' heavy-security warehouse, based at a Princes Highway industrial estate, has been broken into six times since September 2010.
Naren Murugesu, a director of Landmark Computers, estimated the company had spent more than $20,000 on security measures – but to no avail.
He said the company – which employs 35 staff – had lost up to $40,000 worth of laptops and iPods in a single raid.
In the most recent burglary, at 3.30am on April 14, the store's adjoining warehouse roller door was rammed open with a white removalist truck and $30,000 of equipment was stolen.
On each occasion, hooded burglars stole under the watch of CCTV and escaped before an alerted security patrol arrived.
"If this keeps happening again and again, we could close," Mr Murugesu said."Business is getting tougher and tougher. It's not only the money lost, it's being woken in the middle of the night to come down here each time."
He called for tougher sentencing to deter thieves. "In my former country [Sri Lanka], people are poor but there's not much theft. The legal system there is very tough.
"Here, 98 per cent of people are good but 1-2 per cent are bad. We should have proper punishment in our legal system."
Mr Murugesu said the industrial estate's body corporate had agreed to shut the estate's front gates at night to help prevent future raids.
Any information about these thefts can be phoned to either Casey crime investigation unit on 9705 3128 or Crime Stoppers on 1800 333 000.