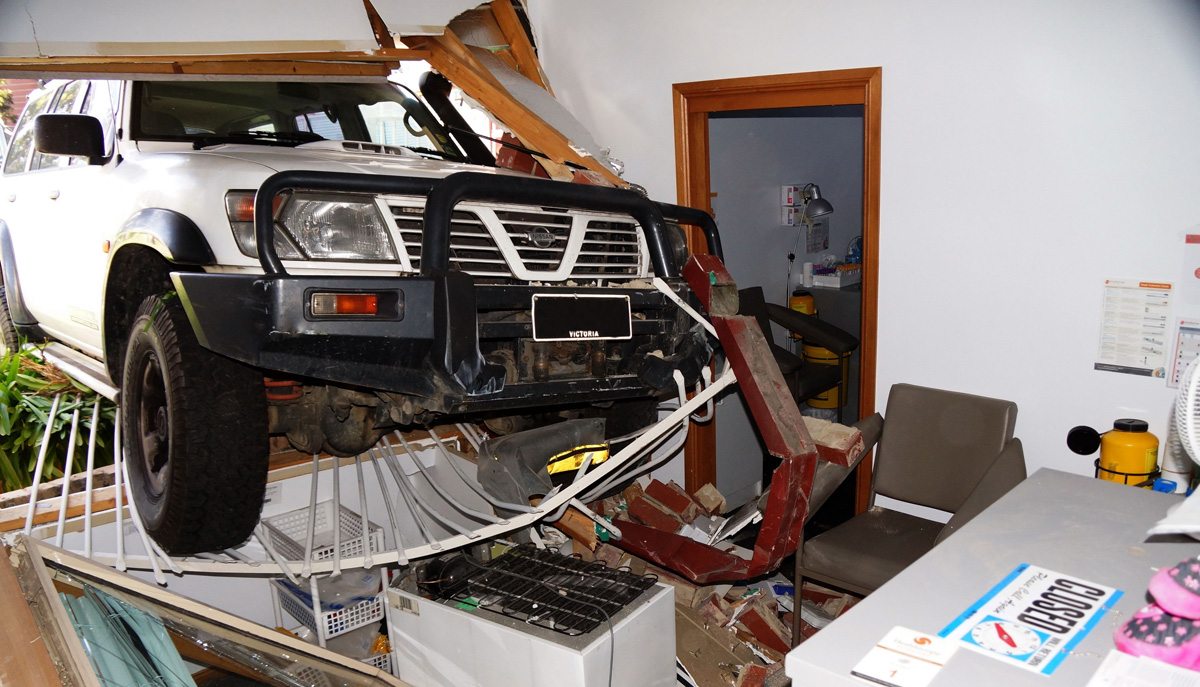 By CAMERON LUCADOU-WELLS
A PATIENT and staff member had a narrow escape after a driverless four-wheel-drive and trailer crashed through the front windows of an Endeavour Hills pathology clinic yesterday.
The four-wheel-drive had rolled about 350 metres downhill from a ground-level parking bay at Endeavour Hills shopping centre about 9.15am, crashing through bollards, over a skate park ramp and a grass verge.
The vehicle did a right-hand-turn across Raymond MacMahon Boulevard, flattening the clinic's security fence and coming to rest in one of the clinic's treatment rooms.
Senior Sergeant Paul Marshall, of Endeavour Hills police, said a 56-year-old Ferntree Gully man who owned the vehicle was apologetic for the ''accidental'' incident.
The owner faced a charge of failing to safely secure his vehicle.
The patient and staff member escaped with ''minor scratches'', he said.
''It could have been really bad. It was extremely lucky that the four-wheel-drive stopped where it did. They wouldn't have had much time to jump aside. They got a fairly big fright.''
He said a surveyor inspected the clinic yesterday, deeming it structurally sound. Repairs would extend to fixing the skate park's ramp that was ''scuffed'' by the four-wheel-drive's undercarriage, and to dislodged bollards and signpost.
''It could have been something that was completely different for us,'' Senior Sergeant Marshall said.
''In most cases, vehicles will just roll forward into another parked car. This time it has rolled through a car park in between cars.''
Hallam CFA Senior Station Officer Michael Lia, who arrived at the scene said it was ''amazing nobody was seriously injured'' in the crash.