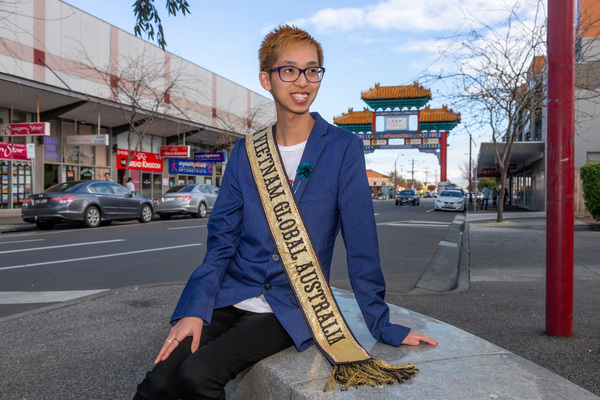 By Cam Lucadou-Wells
Beauty in all of its diversity should be celebrated, says trailblazing Springvale pageant model Hung Pham.
Mr Pham is director of the second annual Miss of Australia pageant 2019, which showcases 35 of "Australia's most diverse and beautiful women" from ages 6 to 60.
The pageant has points of difference. Such as challenging entrants to create a costume that represents Australia.
"We don't want to see the cheesiest costumes. We want the girls to think out of the box – what does Australia mean to them personally."
The entrants also model athletic wear, evening wear and answer a make-or-break question.
Mr Pham says his pageant was challenging the rigid 'type' of preferred contestants such as blonde or brunette. It welcomed diversity of cultures, body types and skin colours.
"I look at how girls respond to questions – how articulate they are, how they can come up with a very quick response.
"I ask them what do you hope to achieve in pageants, why do you want to win."
Out are the aspirants whose replies are "simple" and "don't go anywhere". In are the intelligent, the passionate and the self-knowing.
Miss of Australia is about female empowerment. But Mr Pham also hopes to add male entrants to the mix next year – a task that has proven difficult so far due to a lack of contestants.
In 2016, Mr Pham first "put myself out there on stage" by entering the Mr Diamond Australia. It was an uncomfortable situation, challenging himself across several formats but he emerged victorious.
It started him out on the path of being a "positive role model".
"My main mission was to break down the stereotypes, that men can do this sort of thing."
It's a tough task to forge a fashion and entertainment, but Mr Pham's career has blossomed into national pageants and TV appearances.
Next year is his first international comp, Miss Vietnam Global, held in California USA.
As part of his prep, Mr Pham is honing up on Vietnamese language – which he doesn't often speak around home.
"When you think of male pageantry in Australia, you think of body-building.
"But that's not necessarily the case, like in America where male pageants are very big."
Miss of Australia 2019 is at Village Green Hotel, corner Springvale and Ferntree Gully roads Mulgrave on 3 October, 7.30pm.