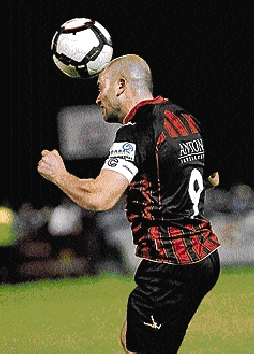 By ROY WARD
DANDENONG Thunder has stepped forward as the Victorian Premier League title favourite with a 4-0 win over newly promoted Southern Stars at George Andrews Reserve on Saturday night.
The Thunder made a dream start, going 2-0 up within 12 minutes of the kick-off following a stellar opening burst from Canadian striker Nate Foster.
The speedy Foster broke down the left side and send a low cross to the back post, finding an unmarked Luke Sherbon for the first goal before finishing a Veton Korcari knock-down in the 12th minute for the second goal.
Once 2-0 ahead the Thunder was rarely challenged. The Stars did create a couple of close chances in each half but both went wide.
Foster scored the third goal midway through the second half after being put through for a one on one, beating Stars keeper Gareth Siddle before tapping home the goal.
A lively Liam Kearney scored the fourth for the Thunder as Siddle parried a free kick from Sherbon into the goal mouth and Kearney smashed it home.
Stars striker Leon Williams let his side down in late-on, making a tackle with raised boot. That enraged the Thunder players and led to Williams getting a red card.
Thunder coach Chris Taylor praised his players for their performance. He described Foster's debut for the club as delightful. "Nate is a delight to coach. He works hard and does all the right things.
"He scored two and created one today and he could have probably scored three more. What I like is that he works into position and some of the goals he scores are off his own bat because he gets to position."
Taylor said his side would now turn its attentions to Hume City, which it will face at Epping Stadium this Friday night.
Stars coach Dean Hennessy said his side had learnt a valuable lesson and needed to find solutions before its second match.
"In some ways I would rather lose this game 4-0 than 1-0 because then we can learn these lessons," he said.
"Over the past two years I don't think we have ever lost the contest for possession, but we did today and I'm not sure why, so we will dissect that this week and find a solution."
Hennessy was also disappointed the referee had a yellow card in his hand after Williams's tackle before going for the red after consulting his linesman.
But Hennessy didn't defend his player's actions. "It was a reckless, stupid challenge and I'm sure it came from frustration. We will deal with it internally, as we do with these matters."