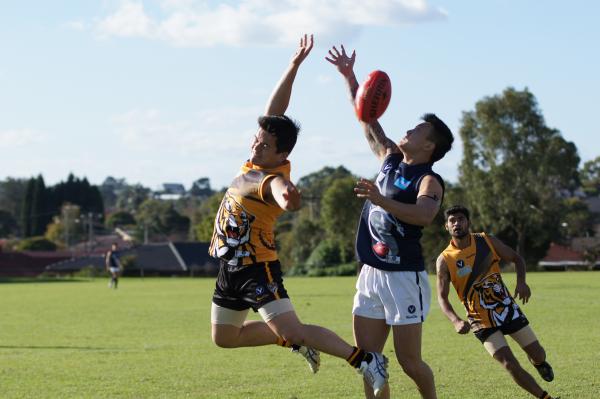 By JARROD POTTER
LYNDALE provided the first upset win of the season, knocking off last year's runner-up Sandown 10.8 (68) to 6.16 (52).
Wayward kicking proved lethal for Sandown, spraying 2.10 to half-time before a wake-up call sparked some initiative.
New recruits Brian Grundy and Trent Day proved valuable to the Pumas' performance, while Rhys Fletcher, Matthew Stuart and Trevor Kumetaitis all jagged two goals each.
For the Cobras, Shane Adams booted three goals and Leigh Holroyd, Mitch Gersbeck and Jason Toan were best afield.
Dandenong made light work of demoted Black Rock, taking a four-goal win. With a 12.10 (82) to 8.8 (56) score-line, the contributions of coach Dan Atkin (four goals), David Barrie (three) proved pivotal while gut-running Levi Moss was best afield.
In Division 2, Springvale Districts was downed 6.11 (47) to 9.8 (62), while Matthew Thompson (two) the only multiple goalkicker and best on field, while Gavin Vassallo continued his consistent spree of success in SFL as well.
CASEY CARDINIA
Narre Warren pumped Keysborough by 131 points at Rowley Allen Reserve, with the reigning-premier piling on an 11.9 to 0.1 final term that took all level of respectability away from the scoreboard for the Burra. Ben Hoskin (three goals) and Davor Rajic (two) were the best forwards while Michael Downie and John McMurray were in the best.
VAFA
ST JOHN'S wiped down Emmaus St Leo with a 20.20 (140) to 12.7 (79) thumping, with Rohan Scott unstoppable up forward as he jagged seven goals. Corey Lely was best afield and put three majors to his name while Glenn Costas (three) and Aaron Abela (two) were also in the best performers.
MASALA continued to make progress despite the 5.4 (34) to 16.20 (116) score-line against Dragons. Masala won the second quarter on the boot of Heshan Lorenz-Daniel (two) and their full forward (two). The Dragons outran the Tigers through the second half, but the positive signs were there as Ben Nugent, Dave Crkvenac and Wayne McMahon continued their successful start to the season, among the best. Masala coach Matt Peddlesden laced up the boots for the first time, showing his charges how to speed through the midfield and work back defensively.