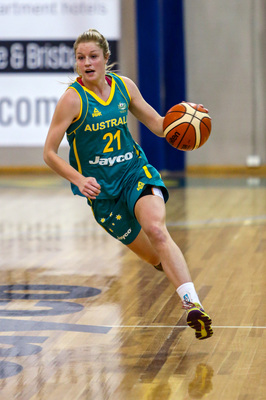 By JARROD POTTER
SOMETIMES reality can exceed even your wildest dreams.
Earning an Australian Opals' debut at her Dandenong Basketball Stadium home-court on Monday night was beyond belief for Endeavour Hills' basketballer Aimie Clydesdale.
Clydesdale, 21, is in the midst of a year beyond compare as she goes from strength to strength wherever she is assigned, including her first national senior selection.
Earning her Australian Opals call-up, after impressively battling the rest of the world at the World Uni Games in South Korea last month, Clydesdale's inaugural campaign with the country's senior women's team was a resounding success.
She featured in all three clashes against Japan – held in Dandenong, Frankston and Ballarat recently – as the Opals claimed the series 2-1.
"It was a great experience – something that I was really happy to be a part of," Clydesdale said.
"Got to make my first debut game for the Opals on my home court, so it was really amazing.
"It was a real honour – the Opals don't play in Australia very often, so I was really lucky to get that opportunity and the home crowd gave me a big welcome… I was really happy to be a part of it."
It all comes back to that first step on court Monday – her court ever since starting out as a junior Ranger – as Clydesdale was subbed in to join the elite pantheon of Australian Opals representatives.
"Probably just my first call up onto the court for my first game," Clydesdale said.
"We were playing 14 players so I wasn't sure when I was going to hit the court or if I was going to hit the court.
"When I made my first sub into the game I think that was probably a really special moment for me – I was a bit nervous about it but really excited as well."
It adds yet another layer to an impressive year for the pacey point-guard, but it's all driven by her tenacious appetite to improve.
"It's been a massive year for me – it's what you wait for, you put all the hard work in, in hope that something like this is going to happen… I feel really luck that I was asked to be part of the Opals' squad… from that moment on it's all gone upwards and will only keep going upwards," Clydesdale said.
"I've just got to keep on top of it – keep working hard – and hopefully have a really good WNBL season… we'll see what happens from there."
Australian Opals' coach Brendan Joyce said he wanted to promote Clydesdale quickly through the ranks as she has the potential to become a major part of Australia's basketball future.
"We've identified that she has some really good physical traits and good basketball skill, so we really wanted to involve her and expose her to an opportunity at the World Uni Games and also the Opals' camps to expedite her development," Joyce said.
"She's done a really good job – we are certainly about exposing players not only for now but for the future.
"Aimie is very quick and she's got a good intellect and she's good size for a guard as well so there's huge potential there."
Clydesdale will return to Dandenong for the remainder of the 2015 SEABL season – with her Rangers sitting on top of the SEABL East Conference and set to feature prominently in finals. Clydesdale's gaze then shifts to the 2015/16 WNBL season.