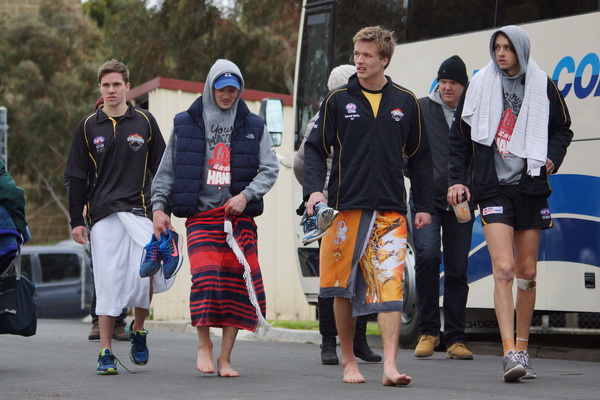 By JARROD POTTER
ANOTHER eight Dandenong Stingrays will get a chance to impress recruiters and test their potential.
Following the eight players selected for the National Combine last week, Dandenong is also filling up the state combine ranks approaching the end of the TAC Cup season.
The skipper Lachlan Williams and potential Melbourne father-son selection Jake Lovett head the list of Stingrays, which also includes spearhead forward James Freeman and Vic Country midfielder Mitchell Cox.
The Rouse brothers – Jordan and Zachary – round out the list ahead of the October combine held at Etihad Stadium.
Dandenong Stingrays region manager Mark Wheeler said it was a fantastic opportunity for those who have impressed at the TAC Cup level as well as a few players who have put their names up despite missing a fair chunk of match-time.
"It's really good – second opportunity for some of them," Wheeler said. We'll continue to feed the draft over the next couple of years – we thought we were going to bat deep this year, and with another eight invited – up to 15 – showed that we've got an elite list."
Williams' return to form – after recovering from appendix surgery – showed he was an overlooked prospect through the national championship and Wheeler believed the captain's leadership and calmness under pressure made his efforts all the more impressive.
"Get to see what he's capable of – we thought the week before with his Northern Knights game he was impressive, but he backed it up Sunday.
"Usually the second game back in the TAC Cup you usually back up a bit, but his pressure and on-field leadership were elite."
While 15 in the elite draft mix is sensational, Wheeler thought the likes of Lachie Batten, Jake Dipasquale and Harrison Prior could all consider themselves unlucky on the back of their outstanding efforts in the Dandenong strip.
"I can't be too greedy – I've got 15 going – but you feel sorry for a couple," Wheeler said. "Dipasquale has had a most consistent year and could go all day through the midfield, Batten – you could say his omission is because of his injuries – and Harrison Prior.
"That's why we've sent Prior to the VFL to get him some interest, but him and Dipasquale are two of our most consistent every week."
Dandenong Stingrays will continue their season on Saturday against the Oakleigh Chargers at home from 11am.
DANDENONG STINGRAYS STATE COMBINE LIST:
James Freeman, Liam Hulett, Lachlan Williams, Jake Lovett, Mitchell Cox, Liam Myatt, Jordan Rouse and Zachary Rouse.