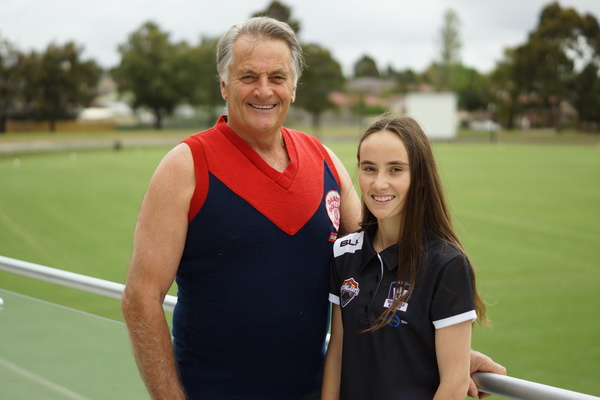 By JARROD POTTER
WHEN Georgia Gee pulls on the Dandenong Stingrays jumper next season, she will proudly carry a Dandenong football legacy into the fourth-generation.
Gee, 16, was selected for the 2016 Dandenong Stingrays Youth Girls Academy – and in many ways the TAC Cup club is a spiritual successor to her grandfather's Dandenong Football Club at Shepley Oval.
While it might not be in a Redlegs side, Gee – a Beaconsfield Youth Girls triple premiership player – was thrilled to get a chance to play where her Pa Brian Shinners made his name in the former Victorian Football Association.
"To be able to follow in my Pa's footsteps playing for Dandy is a massive privilege," Gee said.
"To play with all these other great girls and take my skills to a higher level is a massive honour.
"It's been a good experience so far and it will be a great experience over the six months that we play."
Shinners is thrilled to see his granddaughter extend the family's Shepley Oval history across to women's football – a sight he never could have predicted in his time associated with footy.
"At that early stage you'd only ever think about your son carrying on the tradition of football – certainly Aussie rules anyway – but the progress of the women's side of football and the way it's been pushed realistically by the AFL now has been great," Shinners said.
"Initially I never thought it would eventuate – even at that early stage for Auskick and things like that young girls were very sparingly even involved – so it's been a really pleasant surprise."
The Shinners name is synonymous with Dandenong football as Brian – a former Richmond and Hawthorn VFL footballer – joined the Redlegs in 1970s alongside his brothers Kevin and Bobby.
The three Shinners brothers followed what was started by their father Jack – who played for the club back in the 1930s under the Dandenong United banner.
Shinners saw his granddaughter's skills develop from very early on and he thinks she'll be a force in any
"She goes very well – always had very good hand/eye coordination," Shinners said.
"Georgia has always been, even as a little tacker, about having a kick in the backyard and learned to kick properly.
"She's very quick and has very good co-ordination."
While the Redlegs memories are effectively all that remain of the proud club – besides one display cabinet at Shepley Oval – Shinners is proud of everything that happened in the red and blue, especially the friendships formed throughout the years.
"I feel disappointed that there isn't more memorabilia about the history of where Dandenong came to," Shinners said.
"It was always very competitive and they always had a lot of great players and people related to the club as well as the local community.
"I always enjoyed the footy – it gave everyone a little bit of everything in the VFA, you had guys who didn't actually make the VFL but were good footballers in their own right.
"As well as the friendships and the relationships – Pat Flaherty is still a really good mate, Terry Reid, Derrick Harrington, the fact that my brother and I and my younger brother Bobby came here and played at Dandenong, too."
As far as the monumental growth of women's sport has come in Shinners's lifetime, it's grown dramatically just in the time Gee has been playing as Women's AFL is now a certainty rather than just a concept.
"It's been pretty crazy watching the process of all the girls' footy teams growing from when I was younger – it was just all boys playing and I never thought it would be like this," Gee said.
"I never thought there would be a girls' competition and it's been pretty amazing."
Gee will feature in a Stingrays' practice match on Sunday at Frankston Oval from 10.30am.