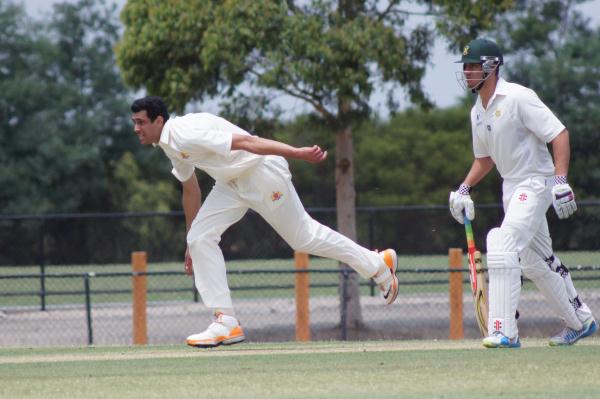 By JARROD POTTER
LIGHTING up Sub District cricket on Sunday, Noble Park seamer Ash Perera brushed aside Kew with a supreme eight-wicket spell.
Needing a win to stay in touch with the top half of the VSDCA North/East first XI ladder and keep Noble Park's finals chances alive, Perera and the visitors surged through the hosts in the two-dayer at Victoria Park.
Returning on Sunday morning with 184 to defend, Perera led the Noble Park attack throughout the afternoon, as his 11.5 overs terrorised Kew.
He rode his luck at times – getting one caught down the leg-side and another wicket chopped on – but Perera was happy to be on the receiving end of some good fortune for a change.
"I suppose it was one of those days where everything just went right," Perera said.
"Had a few overs on the Saturday afternoon and got a wicket caught down the leg side – not every day you get that – and then things started going the right way on Sunday.
"Inside edge and one that the guy chopped onto the stumps – and it was one of those days that every half chance or chance went to hand and went our way when eight or nine times out of 10 it goes the other way.
"When you have a roll on like that you just get the feeling up and feel like you're going to get a wicket with every ball you bowl."
Kew's batsmen lined up to be part of Perera's procession as he rattled through the top order before taking the crucial late-order wicket of Kew captain Justin Graham for 63.
Graham's wicket triggered another Perera-caused collapse as he picked up three more to finish the day with the remarkable figures of 11.5-5-8-26.
But the wicket Perera thought mattered most wasn't one of his – but the all-round effort of Issy Perera to dismiss Kew gun batsman Daniel Gledhill.
"The wicket that I felt changed the momentum for us wasn't one of mine – was Issy Perera's wicket, one of their gun batsmen first ball after the break out stumped," Perera said.
"Him and the captain Justin Graham had put on 80 for the fifth wicket – 4/20 then 4/100 and we were on the back foot a little bit, but that wicket changed the whole momentum of the game again."
The win keeps ninth-placed Noble Park within striking distance of the top six – especially the other two chasing sides in Croydon and Kew – with a three-game winning streak keeping the faith alive for the Bulls.
"Our captain-coach Luke Wintle sat us down on the Tuesday when we first got back after Christmas and showed us our ladder position compared to everyone else we face for the rest of the year," Perera said. "Five of those six sides are within the top seven and we've pretty much got to win all the games we play for the rest of the year – so our destiny is in our hands and we want to play finals we'll have to put the foot down."
The eight-wicket haul takes him to 19 wickets for the season from his eight matches – matching his total from last season already – and it's Perera's way of paying back the junior club that helped cultivate his cricketing acumen.
"I played six years there before going to Canberra and they were pretty much the club that propelled my carer to where it went," Perera said.
"So I always said to Noble Park once I finished playing Premier Cricket there was only one club I'd go back and play for and it was always going to be Noble Park.
"There are the same faces around and it's just a good place to be around – pretty spoiled with the facilities and social club and all that stuff there – it's like going home."
Noble Park hosts Endeavour Hills for the round-10 two-day match starting this weekend.