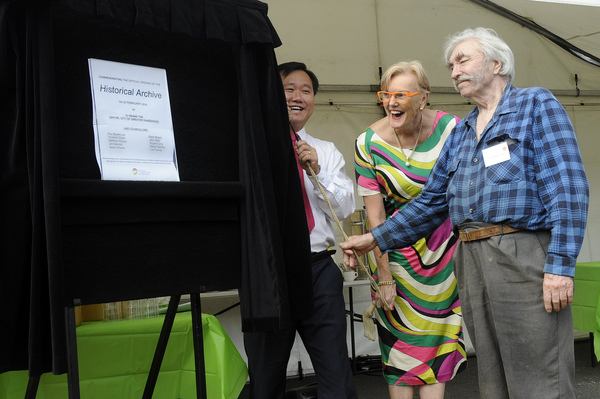 OUR special objects, images, and documents tell us about who we are and where we have come from as a community.
The items in our local history collections tell stories over more than a century of everyday life across the municipality, from those of mayors and community leaders to children and families, and the many changes this area has been through.
In partnership with the Dandenong and District Historical Society and the Springvale and District Historical Society, the council has created a joint archive facility for three historical collections to preserve our local history and provide ways for the broader community to get involved.
The new facility in the old progress hall in Hammond Road, Dandenong, provides a quality, secure space for the storage and preservation of heritage items.
The facility features industry standard light and temperature controls and monitoring, which are particularly important for items at risk of degradation such as photographic negatives and textiles.
Importantly, it provides a place for our two historical societies to also store their documents and memorabilia.
It makes sense that an environmentally-controlled building can be shared between all parties who have historic material so that all can take advantage of the facilities.
In addition, the facility provides equipment for a team of volunteers to scan items from the heritage collection for presentation online.
This is a really exciting initiative which will broaden the audience for historical collections in the municipality and beyond.
The facility hosts the council's civic collections including objects, photographs, maps, artworks and documents.
Among the most important items is the council's collection of historical mayoral robes as well as the many thousands of photographic negatives donated to the council by local photographer Graham Southam.
In the near future, the facility will also host collections from the Dandenong and District Historical Society and the Springvale and District Historical Society.
The digital scanning of documents and photos has just commenced and there is a link on the council's website where residents can see the work that is held in our collections – www.greaterdandenong.com/arts.
There is also a place where comments can be left, so that if residents have information about old photos and the people who are in them they can provide further details.
One of the best ways to get involved is to offer your skills as a volunteer to the project of cataloguing and digitising heritage items.
The team meets on Wednesdays and Thursdays at the archive.
Call council volunteers co-ordinator Patricia Roche on 8571 5335 for more information.
Also, keep an eye out for heritage displays and exhibitions across the municipality, advertised on the council's website.
– David Henry, Greater Dandenong Council heritage community engagement officer.