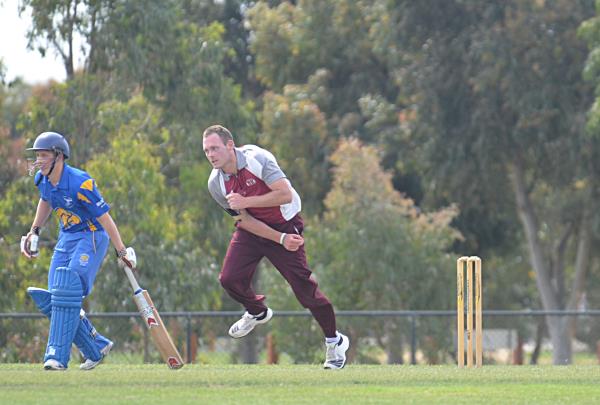 By Nick Creely
SATURDAY 5 November is going to be a day that the North Dandenong Cricket Club is never going to forget.
But it will be a day that Narre Warren will never want to re-live.
Amidst some spectacular results in an unforgettable round of DDCA Turf 1 action, Jurgen Andersen had a day out that almost all cricket tragics can only dream about.
The 24-year old North Dandenong skipper bowled one of the great spells, capturing an astonishing 9/79 in his side's crushing victory over the Magpies at Lois Twohig Reserve.
The nine-wicket haul is the second best bowling performance in Turf 1 history, and Andersen told the Journal he is honoured to be part of DDCA history.
"It's pretty special to become part of history in the DDCA – it's obviously such a rich competition and it's really cool," he said.
"It's definitely in the top five of all time – but it's tough to say really.
"Bowling figures-wise it's obviously my best performance, so I guess it is the best I've ever bowled.
"It was all pretty surreal to be honest – I didn't expect it, I honestly thought someone else was going to start taking wickets."
Andersen took the first nine wickets of the innings, including some crucial scalps that helped his side crush the Magpies, but a freakish bit of fielding meant the perfect ten was just out of reach.
"My best wicket was probably just before tea when they were 3/100, and I bowled a short one and he gloved it through to the keeper – it was a really important wicket because they were just starting to build a really good partnership, "he explained.
"Michael De Kauwe, our off-spinner took the last wicket – the guy at cover took a one-handed diving catch actually, and the team was naturally giving him a bit of stick but at least we got the win.
"But it was a cool experience, and everyone else chipped in with fielding and intensity so it was a great team effort."
The talented all-rounder, who has played cricket all over the globe, heaped praise on his side and says the environment the club is building should see them some sustained success.
"We've got a new president this year, some new captains, both in the firsts and seconds, and a whole new structure to the club itself, and we are building a really good family culture where everyone is equal," he said.
"We have some great depth – we have 65 people at least coming to selection this Thursday to try and get into five teams, so it shows we are heading into the right direction.
"A lot of credit needs to go to the new president and the board."
It's been a stunning return to the club this season for Andersen, who on just Wednesday night starred in his sides Twenty20 victory over Narre North, taking 2/11 and making an electrifying 83 not-out.
Looking ahead to an early season blockbuster with reigning premiers Cranbourne on Saturday, Andersen believes his troops are ready to prove their credentials.
"We are going to be massively tested this week, we got really lucky in the first round, so we have built up some good form in the Twenty20s, and it's a great test to see where the guys are at after a massive pre-season," he said.
"We are up for the challenge – we need to take some big scalps so we'll get right into it.
But he is wary of one man in particular, Eagles champion Steven Spoljaric.
"He is just a machine, a great player and there is a reason he wins the Wookey Medal that many times," he said.
"He is an important scalp."