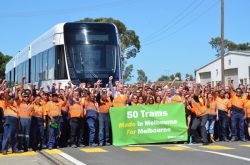 By Casey Neill
"It brings tears to my eyes to see us reach such a big achievement."
Bombardier welding co-ordinator Con Sakellaridis started working on the E-Class tram project in Dandenong in June 2011, "right at the beginning of the design stage".
On Tuesday 28 February he joined his colleagues in celebrating the 50th E-Class tram completed for the Melbourne rail network.
"I'm very, very proud actually," Mr Sakellaridis said.
Bombardier needs more tram and train orders to secure work for Mr Sakellaridis and his 400 colleagues.
The State Government initially ordered 50 trams from Bombardier in 2010 and in 2015 extended the contract by 20.
The 70th tram is due to be finished mid next year, as is the final Bombardier V/Line VLocity carriage.
Bombardier Australia managing director Andrew Dudgeon told workers he was in negotiations with the State Government and hoped to announce more work soon.
In particular, he's pushing for a further order for 40 to 80 E-Class trams.
Mr Dudgeon said the vehicle's design was always evolving and that trams 51 to 70 would have a new driver cabin.
"All of you are responsible for what you see behind me today," he said, gesturing to tram number 50.
"It's a lot of hard work, but we have a very happy customer."
Each E-Class tram can carry more than 200 passengers when full and has state-of-the-art audio and visual passenger information, air-conditioning, a low floor, improved safety features and dedicated spaces for passengers with mobility aids or prams.