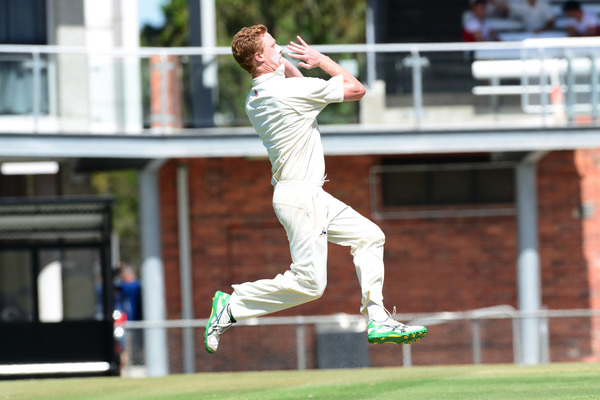 VICTORIAN PREMIER CRICKET
QUARTER-FINAL PREVIEW
DANDENONG v MELBOURNE
Shepley Oval – Saturday 11 March and Sunday 12 March
By Nick Creely
The Dandenong Cricket Club has defied the odds in the last decade more than any team in the competition.
Throwback to 2007/08, when the Panthers finished eighth, after winning their first ever flag the year prior – in the semi-final against eventual runners-up Geelong, they almost stole a famous victory.
In 2010/11, the Panthers came from the clouds at fifth to claim one of the most famous Premier Cricket premierships of all-time – in a match against Frankston Peninsula, it came down to the wire, with the Panthers just holding on in one of the most tense grand finals in 100 years.
Only a year later, on the same day, the Panthers almost clinched another premiership from eighth spot, this time against a powerful Richmond side featuring some of the greatest Premier players to step onto the field.
But since bowing out in 2012/13, the Panthers have been stuck in the wilderness, unable to emerge – players have walked, young talent has come in and legends have departed.
The club went behind the shadows, developing its talent, watching and waiting for the time to pounce.
And as the Panthers enter the 2016/17 finals campaign ready to add their already glittering trophy cabinet, they must deal with the challenge of being one of the competition's favourites.
There is no better leader in the competition better prepared for what's to come than Tom Donnell – after over 200 games with the club, the almost 7000-run machine has endured the tough times, and lead the club nobly through a tough transitional phase over the last three years.
His side-kick, a star opener by the name of Brett Forsyth, has clicked into gear at the perfect time – his century late in the season against Frankston was classy and technically perfect.
Across the board, newcomer Lincoln Edwards has emerged as a bona-fide star – LJ has consistently made runs in the middle-order and added another dimension to the line-up.
Others such as all-rounder James Nanopoulos, Cameron Forsyth, Jacques Augustin and Edward Newman make up a unique and equally exciting middle-order.
And then there is James Pattinson.
There has not been many other better scripted returns from injury in the last decade – Patto has finally started bowling at the pace that earnt him a baggy green back in 2011, and with the bat, well he has been extraordinary.
But he is on Sheffield Shield duties and is unavailable to play, a massive blow for the hosts.
But looking at the bowling unit, there is a balance that not many other sides possess and will be confident they can cover his immense influence.
There is Justin Butterfield, who despite not having as prolific a year as everyone is use to, could be the most vital bowler come Saturday.
Butterfield has battled injury this season, and returned via the seconds last weekend in a bid to be available for the finals.
Over his stunning 300-wicket career, his record in the big matches stands alone to anyone at the club, and is an important inclusion with Pattinson out.
Emerging quick Adam McMaster has been another success story out of the club this season – after a slow start to the season, he has flourished with more responsibility and an opportunity to utilise the new ball.
But Melbourne is a team chock-a-block with star players, and are not a team to be taken lightly.
Fringe Victorian players and former junior stars make up the Melbourne team, which on paper looks as good as any in the competition.
They have been a little bit out of sorts in previous rounds, but have a greatly balanced squad, with players capable of making big runs or taking plenty of scalps.

LAST TIME THEY MET:
In Round 15, the Panthers hosted the Demons at Shepley Oval, where a stunning 131 from James Pattinson led the home-side to a comfortable victory. Batting first, the Panthers reached 8/361, with LJ Edwards and exciting batsman Cameron Forsyth making vital half-centuries. Pattinson then backed up his hundred with a six-wicket-haul the next week, while Patrick Turner impressed with a couple of wickets.
DANDENONG TEAM
Tom Donnell – 17 matches, 400 runs at 26.67, HS 114*
Brett Forsyth – 17 matches, 577 runs at 41.21, HS 111
Ed Newman- 12 matches, 185 runs at 30.83, HS 718
Lincoln Edwards – 17 matches, 538 runs at 44.83, HS 85
Cameron Forsyth – 8 matches, 187 runs at 37.40, HS 70
James Nanopoulos – 17 matches, 337 runs at 37.44, HS 83, 28 wickets at 21.93, BB 4/22
Jacques Augustin – 16 matches, 107 runs at 26.75, HS 36*
Peter Cassidy – 10 matches, 48 runs at 48.00, HS 23, 15 wickets at 22.40, BB 3/30
Adam McMaster – 17 matches, 44 runs at 11.00, HS 20*, 24 wickets at 28.88, BB 4/12
Patrick Turner – 3 matches, 15 runs at NA, HS 15*, 5 wickets at 24.60, BB 3/28
Justin Butterfield – 15 matches, 23 runs at 11.50, HS 17*, 14 wickets at 33.64, BB 4/23
WHAT THE CAPTAIN SAYS:
"We've had a couple of years not playing finals, so it's good to be back – all the guys are excited." – Tom Donnell
"Melbourne is a tough team, but we'll go in confident and hopefully a few of us can put up some good performances.
"They have a strong batting line-up, so our bowlers need to be disciplined and patient – our batting has got us through so hopefully that stands up.
"Not having Pattinson is obviously disappointing, but it just gives someone else a chance to take his spot and do well.
"Our goal was to just make finals, and now that we're here, we want to enjoy it – we know it'll be a tough game on the weekend, but having the home final puts a bit more expectation on us no doubt."
PLAYERS TO WATCH:
Panthers opening batsman Brett Forsyth has been one of the competition's elite for a decade, and looms as a crucial player in setting the tone with the bat. The dynamic opening batsman is built for the big moments, and is arguably the biggest scalp for the Demons. If Forsyth finds the runs, more often than not the Panthers win.
Coming into the finals, Demons star Meyrick Buchanan has found some seriously ominous touch with the blade. In his last four consecutive innings he has passed 50, but more importantly he's making runs when it matters most. Coming in at three, he is the scalp the Panthers must take early, or he will use his classical stroke-play to carve up a terrific Shepley Oval pitch.
THE FINAL WORD:
It's now time for the Panthers to carry the tag of one of the premiership favourites to glory, and on Saturday, the first hurdle of a quarter-final victory must be overcome. The task is difficult without James Pattinson, but they've done it before. Their obvious strength is their batting, so winning the toss is crucial for Tom Donnell to set a big total on their home deck. But can they win without Pattinson? History suggests they will lift for the occasion.