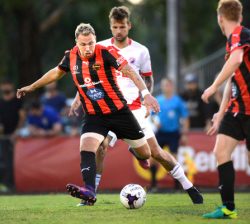 NPL2 EAST REVIEW – ROUND 6
A tough week for the Springvale White Eagles has compounded with a disappointing 3-1 loss to Sunshine George FC on Saturday afternoon.
After the FFV deducted two competition points from the Eagles and the Dandenong Thunder due to supporter misconduct last round, a decision that could be challenged in the coming days, the Eagles relinquished their top-spot on the NPL2 East ladder as a result.
It has caused a lot of controversy throughout the week, with an independent tribunal ruling that both clubs failed to control their crowds after a brawl erupted during the second-half of last week's clash, causing the game to be halted for over ten minutes.
The Georgies were on the board early through Jagajeet in the first five-minutes, and never really looked back as an obviously disappointed Eagles side could not overcome the challenges of the week.
Dandenong Thunder has crushed Northcote City FC 4-2, as star striker Brandon Barnes notched up his half-century of goals in the NPL for Dandy.
Starting the round out in fourth spot after losing two points during the week, the Thunder responded in brutal fashion, and against a powerful opposition looking to make a statement.
The Thunder were electric with their movement early, and it took to just the 15-minute mark before Veton Koraci converted a slick right-footer into the net to give them an early advantage.
Only a minute later, Barnes got into the act, converting his first of the match via some excellent defensive pressure and slipping out into space. And the City hit back like quality sides do, converting a goal after some clumsy defense from the Thunder, pegging the score back to 2-1 with plenty of time to play in the first-half.
But it took just five minutes after the half-time break before Barnes slotted goal fifty, before City hit back only moments later to leave them hopeful at 3-2.
But Korcari sealed the deal after some slick work from Barnes, converting a goal in the 70th minute to put to bed any chance of a comeback from the City.