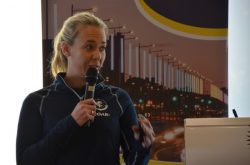 Place trust in people and processes was Lauren Arnell's key advice to businesses at a Sandhurst breakfast.
The AFLW player was the guest speaker at the Greater Dandenong Chamber of Commerce Business Awards event on Wednesday 14 June.
The triplet from regional Victoria played basketball until she discovered AFL at age 17.
She said playing for the Western Bulldogs in the women's football exhibition games made her realise that footy was her passion.
Ms Arnell left her career as a teacher to work for AFL Victoria and assist Carlton in its bid for an AFLW side.
She said the tender process for a licence was very broad.
"We had no idea what they were looking for," she said.
Ms Arnell helped to design what was essentially a mini business within the Carlton Football Club, and submitted the only bid with a head coach attached.
Carlton was among eight clubs that were granted licences for the 2017 season.
She also worked with the AFL Players Association to work out a pay deal for the women, which per hour is equivalent to the lowest-paid men's rookie.
The Carlton team won its first two games and lost the next two.
Ms Arnell said that when things went wrong, it was important to re-evaluate.
"But trust people around you to do their job," she said.
"The most important thing is to trust the process."
She urged business owners and managers to get to know their people and understand them.
"When things don't go well, this will help," she said.
Ms Arnell said she always asked her colleagues how they were.
"It's important to show that investment in other people," she said.