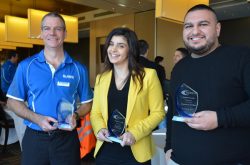 By Casey Neill
The Dandenong Pavilion is "riding the burger train" to success.
The restaurant was announced as a nominee for the Greater Dandenong Chamber of Commerce Business Awards at a breakfast at Sandhurst Golf Club on Wednesday 14 June, alongside Bombardier and Genesis Fitness Club.
Joel Maroun bought the Pav about 18 months ago.
He'd essentially been running the Princes Highway venue for the past three years and had worked there for eight.
"My sister was working there first," Mr Maroun said.
She recommended he join the team so he studied business and commerce, marketing and management at university from 9am to noon, worked at the Pavilion from noon to 5pm and at a pizza shop from 5.30pm to 11pm.
"I've always wanted to own my own restaurant and I'm lucky to get the opportunity at such a young age," he said.
That opportunity came from former owner Dani Zeini who wanted to move onto other things and trusted Mr Maroun to continue to grow the business.
He encourages wait staff to "put some personality into it, build some rapport" to set the place apart.
"It's not just about taking on order," he said.
When the Pavilion's burgers started to gain popularity, the restaurant introduced a secret menu for them to avoid becoming known only as a burger joint.
"We shot ourselves in the foot a little bit because they became even more popular," Mr Maroun said.
"The burgers have taken us to the next level.
"We're going to ride the burger train a bit more."
He plans to open a late night burger bar at the Pav in the next couple of months, and a burger stall at the Caribbean Gardens market.
Bombardier has been in Australia for more than 60 years.
Its manufacturing headquarters in Dandenong produces the VLocity trains and Melbourne E-Class trams and employs about 400 people.
"Our story is based around need and based around moving people," spokeswoman Loulou Hammad said.
"The secret to success is just staying true to the core of your business."
Bombardier worked with Swinburne University students to design a new E-Class cabin using virtual reality, and has a partnership with Chisholm to train staff on-site.
"We want to retain the best staff," Ms Hammad said.
"Rather than them having to go out to get that education, we thought we'd bring it in-house."
Sean and Samantha Whitaker bought Genesis Fitness Club in Dandenong in 2012 and have poured $500,000 into refurbishing the one acre Scott Street site.
"It's been a fitness club there for going on 35 years," he said.
"It had been let go for a number of years.
"We took it on stage by stage."
Mr Whitaker was employed in the IT industry for more than 20 years and wanted something he could be part of end to end.
"I think my wife would probably say it was a midlife crisis or something like that," he said.
He's always had a passion for looking after people and seeks staff with the same commitment.
"The team just feels like we are a team. It's not just a place to work," he said.
"Everybody has a reason to walk through our front door.
"Our point of difference is that we actually care.
"We don't just provide a room full of equipment."
Greater Dandenong Chamber of Commerce Business Award winners will be announced in November.