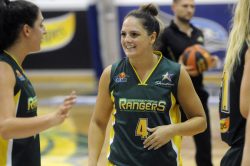 By Nick Creely
SEABL
REVIEW – ROUND 18
A dominant 86-58 victory to the Dandenong Rangers Women's side on Saturday evening has seen the Rangers finish the home-and-away season in top spot.
At Dandenong Stadium, the Rangers clashed with Launceston Tornadoes and were never headed after a dominant 23-13 opening quarter.
That lead grew legs to 23 at half time, and despite some fight in the third quarter the Tornadoes were completely outclassed in a brilliant 19-6 last quarter, with the Rangers shooting hot and finding vital momentum heading into the finals.
The usual suspects in Lauren Scherf (23 points, 15 rebounds), Amelia Todhunter (16 points) and Rosie Fadljevic (10 points, five rebounds) were all in top-notch form for the home side.
The Rangers finish the 22 match home-andaway season with a 15-7 record and a percentage of 115.05, and will now have a big finals series ahead of them starting next week.
Other results saw Melbourne defeat Bendigo 76-65, Hobart beat Frankston 87-74 and Ballarat just edge Basketball Australia Centre of Excellence 94-90.
Meanwhile, Dandenong's Men team were unable to contain a rampaging final quarter blitz from the North West Tasmania Thunder, going down 97-108 in their final home-and-away clash of the season on Saturday night.
In what was a bizarre turn of events, play had to be postponed until 9pm due to travel issues for the Thunder, who had their flight delayed.
The game was a preview of next week's much anticipated final the between the two sides, and it was the home side who started slowly, 20-27.
A more disciplined and sharpshooting Dandenong then turned the screws in the second quarter to hold a narrow half time margin, scores remained level 65-65 heading into the final quarter.
But an inspired 43-32 final quarter from the Thunder, inspired by the monumental efforts of Ahmad Starks (31 points, 11 assists) got the visitors over the line.
Lucas Barker (21 points, six rebounds) played a strong game for the Rangers.
In another strong season for the men in green, they finish with a 16-8 record and in third spot, and will face the Thunder once again in a final next week.