By Nick Creely
NPL2 East
REVIEW – ROUND 16 CATCH UP
The story may be that the Dandenong Thunder rocked past Dandenong City 2-1 in a powerful second half blitz, but Saturday's clash at Frank Holohan Reserve was so much more than the final score line suggests.
The Thunder claimed the coveted 'Jim Memeti Cup', dedicated to Dandenong's soccer loving mayor for the second time for the season.
And the healthy crowd also came to witness the moment the Thunder all but assured their promotion into the top tier of NPL football in 2018.
They now surge seven points clear of the City in second, but it was a game that didn't go all to plan right from the start for both sides.
City were rocked by the late withdrawal of star defender Shaun Kelly – one of their most important players so far in 2017.
Then, only 20 minutes into the first half, the City were forced to make wholesale changes with another star, Milicevic, also going down injured and not returning to the field.
But it didn't stop the City from getting their enthusiastic crowd into the game, with Daniel Visevic finding the back of the net in the 31st minute to send Frank Holohan into raptures.
Some strong defensive work from the City restricted Thunder strikers Brandon Barnes and Veton Korcari from working their magic, and suddenly the top-of-the-ladder visitors looked on the back foot.
Going into half time, the undermanned City were 1-0 off and eyeing off a season defining victory.
With everything on the line for both sides, the first part of the second half was a cracker, but there was always a feeling the Thunder's strikepower would eventually break the game open.
But everytime it looked likely the Thunder would capitalise on one of their many attacking forays, the brave City defenders stood firm.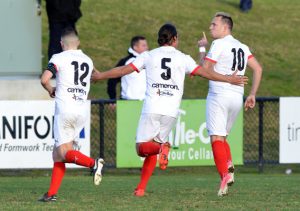 But a piece of magic from none other than Barnes finally got the Thunder on the board in the 70th minute.
Despite looking out of position, Barnes – who was outside the box – used his left boot to crash a ball off the post and into the net, equaling the scores at 1-1.
Desperation crept in for both sides who were eager to land the finishing blow, and once again it was with minutes to play that the Thunder stood up and found the back of the net.
In the 88th minute, Samuel Catherine tapped the ball home to stun the crowd and seal a 2-1 victory.
The City were brave, and with an undermanned and under siege defense, would most certainly walk off the field with their heads held high.
But it appears the Thunder will now return to the top ranks after two years in the wilderness, and boy do they look like making a splash in 2018.