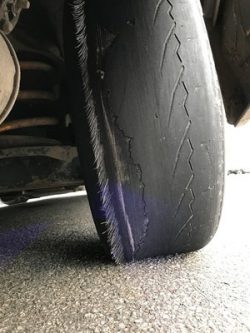 A dangerously bald tyre, the wrong P-plates, a prohibited vehicle – and that's just for starters.
Greater Dandenong Highway Patrol police intercepted the 19-year-old Keysborough driver over the weekend of 5 August, coincidentally outside a tyre business.
Officers said the man was driving a turbo on his P1 probationary licence, which is a probationary prohibited vehicle.
The car was a manual, in breach of the driver's automatic licence.
They said the driver had a green P-plate on display instead of the required red, and the right rear tyre was so bald that the canvas and wire were exposed.
Police issued a major defect notice, which meant the vehicle couldn't be driven from the scene and will need a full roadworthy.
They issued the driver with $635 worth of fines and six demerit points.