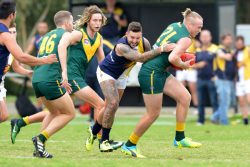 By Nick Creely
Saturday's Southern Football Division 3 grand final at Jack Barker Oval is set to be a significant milestone in the history of the Endeavour Hills Football Club.
Not only will the Falcons play off for their chance at glory against local rivals Doveton Eagles, but the club will be playing for its first piece of senior silverware – ever.
Coming into the 2017 season, the Falcons had never played a senior final – let alone book a ticket to the big dance.
Senior coach Rob Dipper is trying to keep a lid on things at Barry Simon Reserve despite the obvious excitement, and said that they are trying to approach the massive contest in the same manner they always do.
"We haven't changed too much – we did P3 recovery in Berwick last Tuesday, and the guys just got into the pools and threw the balls around," he said of the side's preparation for the biggest game in the club's history.
"This week it's business as normal- we won't change our preparation too much I wouldn't have thought."
The Falcons and Eagles have squared the ledger this season, with both sides tasting success against the other at different stages.
Dipper said past results mean nothing now, with finals football a completely different kettle of fish.
"Come finals footy it's a different ball game – if you try and draw something from a home-and-away game it's probably not going to be the same," he said.
"The first time we played them was early in the season, and they (Doveton Eagles) really did a number on us, and it was about nine-goals, but our side from then is completely different, and when we beat them later in the season we understand they had a few missing – they are a really great side.
"We have to be on from the start or they will run all over us – they are a really strong side with big bodies."
Season 2017 has been nonetheless a major success for the club – after finishing third on the ladder, the Falcons defeated Ashwood by 21-points in the qualifying final, before an incredible semi final win over Hallam saw them earn the week off and direct entry into the biggest game of the season.
"We set some rules and standards that we wanted to deliver on this year, and that's on and off the field – one of our main goals was to play finals, and to finish third on the ladder and to win our first and second finals was probably not where we thought we'd be," Dipper said.
"We were confident we would make finals – we feel we're in a good enough position now and what will be will be (on Saturday).
"We've played some great footy over the last month, the boys are in good form and we owe it to ourselves to finish off our hard work.