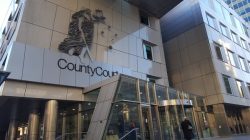 By Cam Lucadou-Wells
A repeat armed robber who threatened to kill a Dandenong North bottle shop worker as he held a knife to his throat has been jailed.
Shane Jefferson, 25, of Beaconsfield, pleaded guilty to armed robbery, threatening to kill and breaching a corrections order in the Victorian County Court.
About 7.40pm on 22 December 2016 Jefferson, with his face covered by an orange bandana, moved behind the liquor counter.
Jefferson raised the 25-centimetre knife against the worker's throat and told him: "I'm going to kill you, c***".
"Give us all your money."
Jefferson and a co-robber in a 'Scream' mask grabbed money from the cash register, as well as cigarettes and booze, the court heard.
During the hold-up, Jefferson's bandana slipped from his face. The victim recognised him as a previous customer.
Before the robbers left in a nearby getaway car, Jefferson pointed the knife at the worker and warned him not to call police.
"I'll come back and murder you, c***. I'll kill you," he repeated several times.
Jefferson was arrested by police the next day, and denied knowledge of the robbery during a police interview.
During sentencing on 9 November, Judge Susan Pullen said she was in no doubt that the victim was "scared for his life" during the three-minute hold-up.
Jefferson had told a psychologist that "I could have killed an innocent man over nothing", Judge Pullen noted.
The "most serious and disturbing" robbery was aggravated by robbing a "soft target" with a disguised co-offender and a level of pre-planning.
The accused also had "troubling" prior criminal history, including being on a corrections order at the time for a previous armed robbery.
He had been sentenced to the four-year CCO by the same judge five months before the incident.
His 16 days in custody for that offence also did not seem to stop him from re-offending, Judge Pullen noted.
The court heard that Jefferson had significant and long-time abuse problems with cannabis, alcohol and meth, as well as impulsive behavioural and emotional issues.
Jefferson was jailed for up to four years, four months for the new offending as well as re-sentencing for the previous armed robbery.
His minimum non-parole period was set at two years, four months.
The jail term included 337 days in pre-sentence detention.