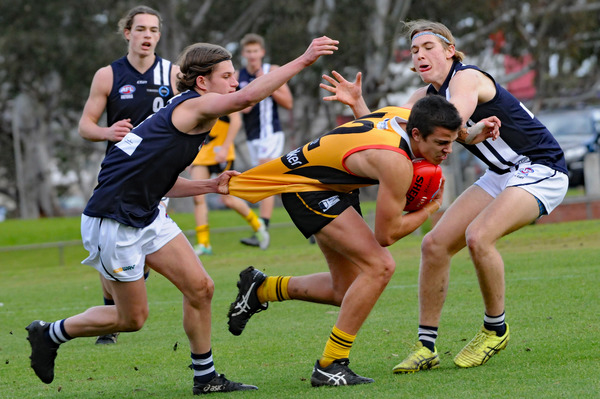 By Hayley Wildes
The top-placed Dandenong Stingrays are marching towards the TAC Cup finals and with so much talent down at Shepley Oval, it should come as no surprise that the Rays have had 11 players invited the 2018 Victorian State Combine.
This news comes a week after five players – Toby Bedford, Riley Bowman, Zac Foot, Will Hamill and Bailey Williams – were invited to the 2018 AFL Draft Combine.
The State Combine will be held at Etihad Stadium on Saturday October 5 and provides those who missed out on Draft Combine invites, the opportunity to impress in front of representatives from all AFL clubs.
The combines assess a player's strength and skill through many trials including kicking, clean hands, agility, jumping and running tests.
Dandenong's Stephen Cumming, Sam Fletcher, Matthew Gahan, Lachlan McDonnell, Jai Nanscawen, Jamie Plumridge, Mitch Riordan, Bailey Schmidt, Sam Sturt, Jai Taylor and Lachlan Young will all attend the State Combine.
In further great news for the Rays, Jake Frawley has been invited to the Rookie Me Combine, held at the Melbourne Sports and Aquatic Centre on Sunday October 6.
That takes the ladder-leading Rays to an incredible 17 players receiving combine invites – underlining the unprecedented top-line talent within the squad.
The likes of Matthew Gahan, Lachlan McDonnell, Jamie Plumridge, Bailey Schmidt and Jai Taylor have all been rewarded for consistent seasons of growth and will be looking to further their draft stock at the combine.
Gahan's ability to read the ball in the air and take strong intercept marks has been a highlight of the Rays stellar defence, while Taylor's willingness to take the game on and run all day stands out.
Sturt receives an invitation after playing for Peninsula Grammar and Mt Eliza for much of the year. The smart forward played his first game for the Rays in round 14 against the Northern Knights and booted a goal.
Dandenong didn't play over the weekend due to a league-wide week off and return to action on Saturday 18 August against the Geelong Falcons in Ballarat.
With just two games remaining in the home and away season, the Rays have sewn up top spot on the ladder and will be looking for their 10th win on the trot when they face the Falcons.
Finals are just around the corner and Dandenong might just possess the squad needed to finally break through and capture the team's maiden TAC Cup premiership.