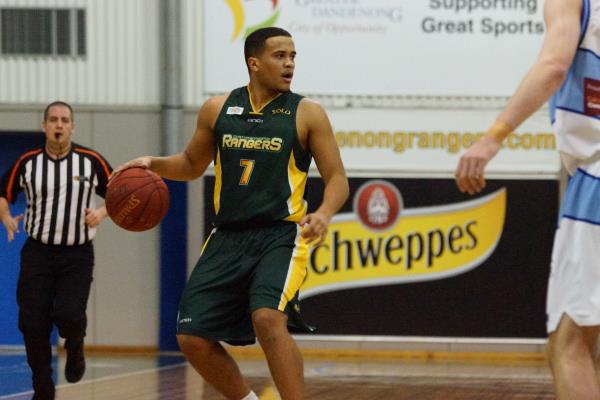 By Hayley Wildes
The NBL is arguably better than ever, so for former Dandenong Rangers junior and SEABL player Michael 'Fuzzy' Wearne, getting a taste of the action has him wanting more.
Wearne, who will return to the US next week to play his fourth year of college basketball, has spent the last three months working out with the reigning NBL Champions; Melbourne United.
Over that period, he has not only worked out with the team, but has suited up in Melbourne's three pre-season games against the Chinese Taipei national team, Saint Mary's University and against Loyola Marymount University at Casey Stadium on Thursday 16 August.
It's been three months full of learning and growth for the 22-year-old guard.
"It's good to have my foot in the door with United and it's been a great experience," Wearne said.
"Guys like Chris Goulding, Mitch McCarron and Dave Barlow, they're such a massive help – they're always talking and helping me out on the court.
"It's really easy to look up to people like that who know exactly what they're doing and so experienced with the game.
"It's just easier to listen to people like that and it's making me a much better player just from being around them."
Wearne returns to Australia after each college season and the aim is the same every year.
"Every time I'm here, I'm just trying to better myself and look for what the coaches want and just give them everything they need both on the court and off the court,"
Wearne's college career includes two seasons at Eastern Washington University, before transferring to Saint Rose for the 2017/18 season. While he admits it hasn't always been smooth sailing, his focus has never been stronger.
"The whole [college] experience has been great – there's been a lot of ups and downs, but at the moment I'm happy with where I'm at and my mind is just tunnel-vision right now on basketball," he said.
"I'm just trying to do everything I can so that when I do come back for good, I'm ready to play in the NBL.
"Obviously, I'll pursue what's best for me at the time, but my mind right now is set on wanting to make it to the NBL."
With the ultimate goal of being a professional basketballer in his home country, Wearne certainly hasn't forgotten where he came from and will always be thankful for how Dandenong Basketball helped shape the player he is today.
"[Dandenong] was great – I had guys in my corner like Darren Perry that were just letting me play and getting me into SEABL nice and early," he said.
"I played with a lot of experienced and NBL guys at Dandenong. It gave me a lot of experience and elevated me to another level and got me to college.
"Dandenong was just the best move for me at the time and I was definitely happy to play for Dandenong."
With a game built on speed, there's no slowing down Michael Wearne in his quest for greatness.