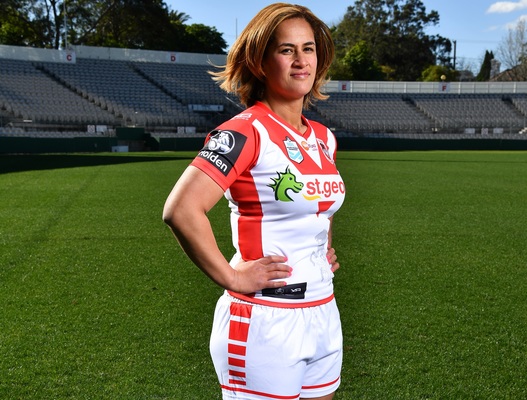 By Hayley Wildes
Oneata Schwalger's journey to the National Rugby League Women's Premiership competition (NRLW) hasn't been easy, so relocating away from her young family to New South Wales in order to pursue her dream was just another step in her journey that had to be taken.
Schwalger, who plays locally for the South Eastern Titans Rugby League Club, was signed by the St George Illawarra Dragons in June and knew that meant she would have to move away from her family for the length of the preseason and season proper.
Having moved up to Wollongong in late July, Schwalger will stay up there for the length of the season, which kicked off over the weekend and runs in unison with the NRL finals.
"I relocated at the end of July and have been training with the team since then. Our official training began at the start of August and I knew I just had to get up here to get into it and get a feel of it all," Schwalger said last week.
"It's almost the same in terms of I'm still doing the same things, I just don't get to go home to my kids – not having my sons around has definitely been the biggest change.
"The little things like whenever I would get home from training, my boys would always greet me – I miss that part, but I video chat with them every day."
Schwalger's game is built on aggression and physicality, and as she puts it, 'being able to run over and through people'.
Prior to the Dragons kicking off their season – and their existence – yesterday at Suncorp Stadium in Brisbane, Schwalger talked about the experience of being a part of the history-making inaugural NRLW season.
"It's exciting – we're the first to do this," she said.
"We got a bit of a history lesson about the Dragons on Wednesday and it's cool to see little things like that to sort of know what's happened before us and what it's led to.
"For us, this is the first semi-professional women's rugby league competition and they'll be talking about us in 20 years."
Has the fact that she is an NRLW player sunk in yet?
"No," she said with a laugh.
"I'm still buzzed every time we train. We get to train on the big stadium that the men train on and it's just a privilege every time we turn up to a training session."
The four-team competition – made up of the Brisbane Broncos, New Zealand Warriors, Sydney Roosters and St George Illawarra – will see the teams play each other once, before the top two teams face off in the grand final which is to be played before the NRL Grand Final in Sydney on Sunday 30 September.