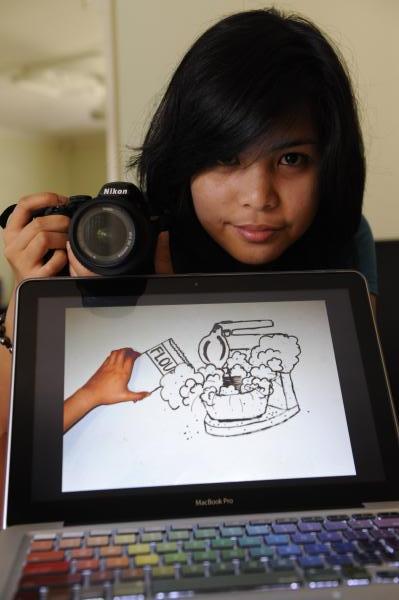 ALEXANDRA Maranon is a step closer to seeing her name on the silver screen.
The Dandenong North student created stop-motion film Cartoon Cookies for her Year 12 media class and was thrilled to find out it was selected for the Top Designs exhibition.
The showcase opens at Melbourne Museum on 16 March and features original work from 108 VCE students chosen from more than 1900 applicants – from fashion to graphic design, robotics, film and more.
"I was actually really surprised because that was my first attempt at making a stop motion film," Alexandra said.
The former Dandenong High School student said her media teacher had a feeling she'd created something special and encouraged her to enter.
The 19-year-old's success was a fitting reward for her labour of love.
It took her two months to make the two-minute film using 3000 individual shots.
Taking inspiration from YouTube clips, Alexandra combined her sister's hands with drawings on a whiteboard to explore the process of baking cookies.
"They turn into real cookies and consume themselves," she said.
"I had fun making it.
"It was a long process but it was worth it."
Alexandra had always been interested in art but it wasn't until Year 11 and 12 that she thought to combine her creative flair with her love of Pixar films.
"I'm really inspired by Pixar," she said.
"Back watching them as a kid I didn't really think of an animator as a career."
But now working for the computer animation studio is her dream.
"I'm really passionate about animation," she said.
"Hopefully one day I'll be making movies.
"That's what I love."
Alexandra's studying 3D Animation at JMC Academy and has a credit on the silver screen firmly in her sights.
"I'm determined to be the best I can be," she said.
Visitors to Top Designs can vote for their favourite work in the People's Choice Award.
Entry to Top Designs is included in Melbourne Museum entry, which is $10 for adults and free for students and concession card holders.
The exhibition is open from 16 March to 30 June.