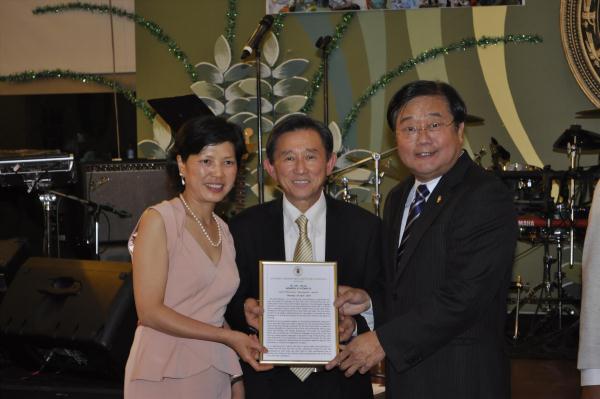 By CASEY NEILL
SPRINGVALE'S Richard Lim celebrated an award win, thanked the community and raised $40,000 for Cambodia Vision.
Lim's Pharmacy last month won the Pharmacy of the Year award and the community engagement category in the national Quality Care Pharmacy Program awards.
Mr Lim held a charity concert at Maxim Restaurant in Springvale on 26 April to show his appreciation.
"This award reflects the community and your support for us over the many years," Mr Lim said in an invitation to the event.
It featured five pop stars from Cambodia and raised money to help restore sight to the needlessly-blind in Mr Lim's homeland.
Not-for-profit Cambodia Vision works with small provincial towns, focusing on blindness prevention and basic medical healthcare and carrying out free cataract procedures.
Cambodia has among the highest incidence of preventable blindness with about 70,000 new cataract cases each year.
Clayton MP Hong Lim presented Mr Lim and his wife Ann with a copy of a speech he made to Parliament about their award win.
"It is almost like a community drop-in centre where people meet up and swap news," it read.
"His multilingual staff, who can handle up to 10 different languages at any point in time, are the very reason people congregate in and ask for help at the pharmacy.
"It is inspiring just to watch the shop in action."
Mr Lim fled Cambodia for Australia in 1980, his family all but wiped out.
He endured years of torture and starvation in refugee camps to make his escape, and juggled an exhausting work and study schedule once in Australia to build a new life.
He opened Lim's Pharmacy in 1991 and contributes time and money to various community groups.