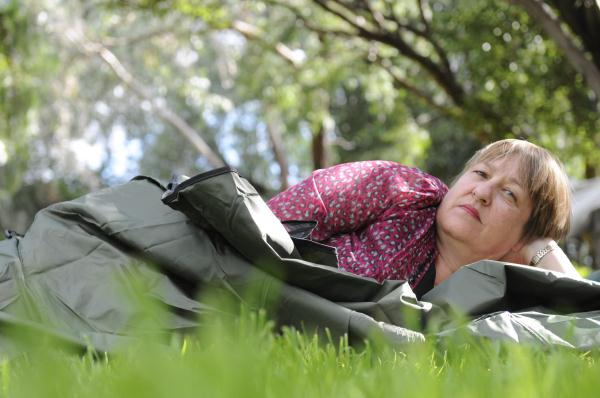 By CAM LUCADOU-WELLS
SWAGS, rather than rooming houses and motels, could be the "new face of homelessness", according to a housing support services manager in Dandenong.
Jen Kelly of WAYSS said her service was nearly out of funds until the end of June due to a "fast and furious demand" for crisis accommodation.
She said the service was facing the "distressing" reality of suggesting homeless people sleep rough in swags.
"We had a look at swags and I told my staff this is the new face of homelessness.
"It's not really part of my morality. My staff aren't really happy that we've provided it as an option.
"We attempt to give people the respect they are due."
The canvas swags are a "great product" from Australian company Swags for the Homeless, Ms Kelly said.
They are well-constructed, warm, proofed against the elements and mosquitoes – but no one's idea of a home.
In the past six months, the service has placed two people in swags – at their own request. Families and children are not an option for swags, she said.
Ms Kelly said there were individuals who were prepared to sleep rough but the typical homeless person or family wasn't a "bagman or trolleyperson".
They include mental health patients released from hospital, men banned from home after a family violence incident, pensioners and "middle Australian" families.
"So many who present as homeless are people who would choose not to live like that."
Ms Kelly, like many running charities and services in Dandenong, was acutely worried over how last week's Federal Budget would hit one of Melbourne's poorest communities.
Moving under twenty-fives onto Youth Allowance and under thirties onto six-month waits for Newstart could swell the ranks of the reluctantly homeless, she fears.
The government argues it needs to rein in a $145 billion welfare budget to put it on a "sustainable" footing.
Budget measures include pegging back pension rises and introducing co-payments for GP visits.
Dandenong Community Advisory Bureau and Cornerstone Contact Centre have swags on offer.
DCAB manager Jinny McGrath said she was likely to need more than her current cache of four swags, if the budget's impending welfare cuts pass the senate.
"We don't want to say this is all we can give you for a home.
"I didn't sleep well after the budget. You can picture people who have come here and think what are they going to do?
"They don't have a lot of money to spend, now they're going to have less."
Cornerstone pastor Don Cameron said his church had given away 100 swags in recent years – sometimes after referrals from homelessness agencies Hanover and WAYSS.
He estimates half of those people in swags slept outdoors.
"It's not the best thing in the world but better than nothing.
"We've had people die from pneumonia (sleeping without swags).
"You don't see them but there are hundreds sleeping rough."
For more Federal Budget coverage, see pages 3, 14 and 49.