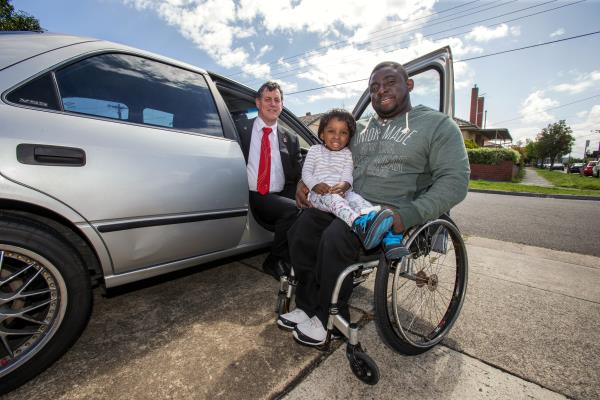 By CASEY NEILL
DANDENONG'S Peter Ogunyemi is about to receive a new lease on life.
He contracted polio in Nigeria in 1976 when he was one year old and has been in a wheelchair ever since.
Mr Ogunyemi is now 39, a former Paralympian and has "a wonderful wife and a genius daughter".
"I am on a disability pension but I love to work and do activities, most especially taking my baby out because my wife has to go to work to support the family and my daughter stays at home with me," he said.
"Sometimes I feel sad not being able to take her out to the park to play because I am not driving.
"Because of that I bought a car thinking that I would get funding from the government for modification, but was told that I cannot get funding because the car is over 10 years old."
So he turned to the Rotary Club of Dandenong South East "so that I can be able to drive to give me freedom to do things and possibly get a job".
The club agreed to pay to modify Mr Ogunyemi's car, and shared his story in the lead up to World Polio Day on 24 October.
Rotary International established the event more than a decade ago to mark Dr Jonas Salk's birthday.
He led the first team to develop a vaccine against polio, which reduced polio worldwide by 99 per cent.
Rotary has a worldwide project called Polio Plus, which aims to eradicate polio throughout the world.
Only Afghanistan, Nigeria and Pakistan remained as polio endemic countries in 2012.
Mr Ogunyemi first came to Australia in 2000 for the Sydney Paralympics, representing Nigeria in the powerlifting competition.
"After the Paralympics I went back to Nigeria and returned to live in Australia in 2001," he said.
"I face a lot challenges but living in Australia has been blessing for me as an individual, and also as a disabled person.
"I was able to fulfil my passion and desire to play wheelchair basketball at the highest level and this really helped me to build up my life and gives me courage to face life as it is."
He played for the Dandenong Rangers wheelchair basketball team and travelled overseas to play wheelchair basketball.