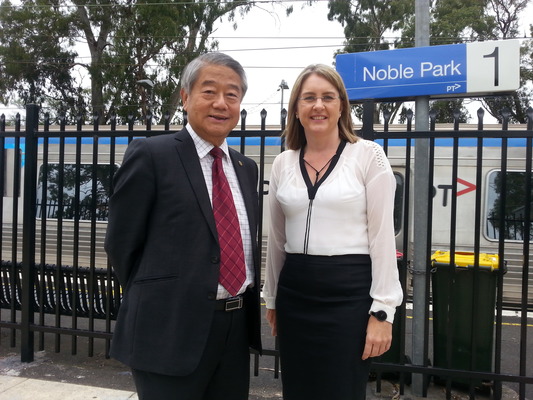 By CAMERON LUCADOU-WELLS
EARLY community reaction to the State Government's sky rail project that will remove the notorious three level crossings in Noble Park has been "dreadful", says a Greater Dandenong councillor.
Cr Roz Blades, a Labor Party member, said the community preferred rail-under-road grade separations at Corrigan, Heatherton and Chandler roads, and didn't feel properly consulted prior to the project's announcement yesterday.
"So far the reaction has been dreadful. Nobody I've spoken to has been positive," Cr Blades said.
"It's because there was supposed to be consultation. Many thought they would have input to the process.
"Handing out cards at Noble Park shopping centre early in the morning doesn't do it."
Asked what she thought of the nine-metre tall skyrail and Noble Park station redesign, Cr Blades said she would have to see the detail.
"The only people who have seen it would be them (the government and Level Crossings Authority)."
Already, graffiti on a Corrigan Road residential fence implores Premier Daniel Andrews to abandon the sky rail.
As part of the $1.6 billion project, a 2.7 kilometre elevated viaduct will be built over the Noble Park intersections creating public open space beneath the line and less rail noise at street level.
Noble Park station will be rebuilt, shifted closer to Heatherton Road and be integrated into Douglas Street shops.
It will be more accessible for visitors to the nearby RSL, skate park and aquatic centre.
To further decongest traffic, a new road linking Ian Street and Leonard Avenue will cross the tracks.
The government says the project will create more than 2000 jobs and be complete in 2018.
Critics have branded the sky rail an eyesore that will allow train passengers to peer into neighbouring backyards.
Several locals at Noble Park station told Star News this morning they welcomed the reduction in traffic congestion and a more accessible, modern rail station.
Public Transport Minister Jacinta Allan said the community wanted to get rid of the level crossings as quickly as possible with more public open space and car parking.
When asked if the public wanted rail above roads, there were a range of views collected at each of the nine removed level crossings between Dandenong and Caulfield.
Ms Allan alluded to a flaw to underground rail projects that took out the Springvale Road level crossing.
"The challenge with that outcome is it continues to divide the community. It continues to have communities divided by a rail line.
"What this option does is allow for communities to be connected in a way they never have been before and provide along the corridor 11 MCGs of open space."
Ms Allan confirmed the project would allow for additional rail lines to be added to what is the most congested line in metro Melbourne.