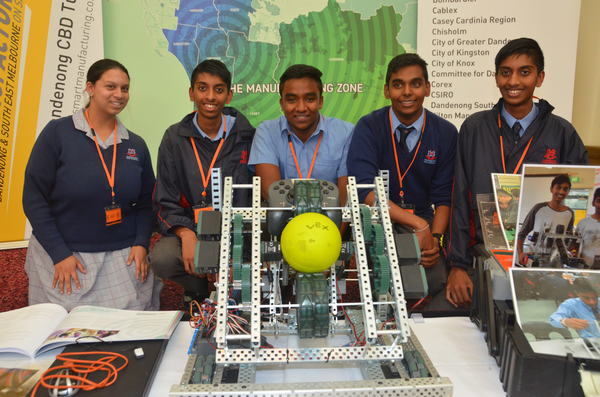 By CASEY NEILL
Drive to make manufacturing zone 'clever, clean and critical'…
DANDENONG and the south-east could become Australia's manufacturing hub if a new $1.2 billion vision becomes reality.
Committee for Dandenong (C4D) hosted a regional manufacturing showcase in Queens Hall at Parliament House on Tuesday 22 and Wednesday 23 March.
Premier Daniel Andrews joined C4D chairman Gary Castricum to launch the group's three-year strategic agenda at a cocktail event on Tuesday.
It champions strengthening smart manufacturing and innovation, improving transport and infrastructure, continued revitalisation in Dandenong's CBD, and fostering community wellbeing.
"Adding 10,000 new manufacturing jobs to Melbourne's south-east means that this region will become Australia's largest manufacturing zone," Mr Castricum said.
Supporting the event and the document were South East Melbourne Manufacturers Alliance (SEMMA), the Greater Dandenong, Kingston, Knox, Cardinia and Casey councils, the CSIRO, Chisholm Institute, and businesses including Bombardier, Jayco and SRX Global.
"This alliance is a first for the south-east of Melbourne," Mr Castricum said.
"Councils, educators and researchers are working together to make Melbourne's south-east the centre of manufacturing in Australia.
"They are joining local manufacturers and businesses to attract $1.2 billion of public and private investment to the region.
"Their aim is to create jobs, stimulate local economies and innovation, and strengthen community health, wellbeing and resilience."
Premier Daniel Andrews and mini robots at Parliament House.
Mr Castricum said the south-east produced more than half of Victoria's manufactured product and included 5000 manufacturing businesses providing 90,000 jobs.
"This incredibly valuable Manufacturing Zone has the potential to become an internationally-renowned centre of manufacturing excellence," he said.
"It is a strong, powerful and collective vision."
Mr Andrews said attendance from all sides of parliament at the cocktail event "should be taken as a great vote of confidence in Dandenong and the south-east".
"To all of those who are here tonight, know and understand that we will keep working with you, we'll keep partnering with you," he said.
"There is a strong future for manufacturing.
"If the south-east is firing and the south-east is going well then I think our state is in pretty good shape as well.
"I thank you for the risks that you take, the investments that you champion, the innovation, the challenges that you overcome every quarter, every year."
Industry Minister Lily D'Ambrosio said manufacturing was not dead, but it was changing.
"We will see some types of manufacturing exit, unfortunately," she said.
"But we don't want the capability to also exit."
Dandenong MP Gabrielle Williams said manufacturing was a job creator "with up to five jobs being created in the rest of the economy for every job in manufacturing".
She said the sector was no longer "dirty, dumb and dangerous" but "clever, clean and critical".
The Smart Manufacturing 2016 – Dandenong and South East Melbourne on Show event will take over Lonsdale Street, Dandenong, on Tuesday 17 May.
It will demonstrate job, investment and growth opportunities, research and education in manufacturing, and innovation and capability in manufacturing.