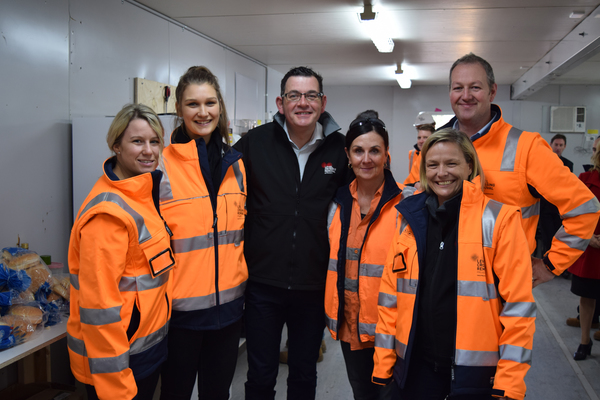 Premier Daniel Andrews joined level crossing construction workers for breakfast in Noble Park on Wednesday.
He popped into the new Noble Park Railway Station site for a thank-you barbecue on 10 August.
"Not only have they worked around the clock to make our roads safer, they've also been working closely with the community and supporting our local traders that have been impacted by the works," he said.
"There's more to be done but this is a small gesture in recognition of what these dedicated workers have already done for our community."
The Level Crossing Removal Authority is encouraging tradies to eat and shop locally during the project to remove nine level crossings between Dandenong and Caulfield.
It sourced food, coffee and other breakfast supplies from local traders as thanks for their ongoing patience during construction works.
The Level Crossing Removal Project includes five rebuilt stations at Carnegie, Murrumbeena, Hughesdale, Clayton and Noble Park as well as power and signalling upgrades.
Work to remove the Corrigan, Heatherton and Chandler roads level crossings started last month, and the Noble Park station will become a transport interchange.
Further works, including building temporary station platforms at Noble Park station, are scheduled from 1.30am on Saturday 13 August to 4.30am on Monday 15 August.
Buses will replace trains from Oakleigh to Dandenong during this time.
Visit levelcrossings.vic.gov.au for more information.