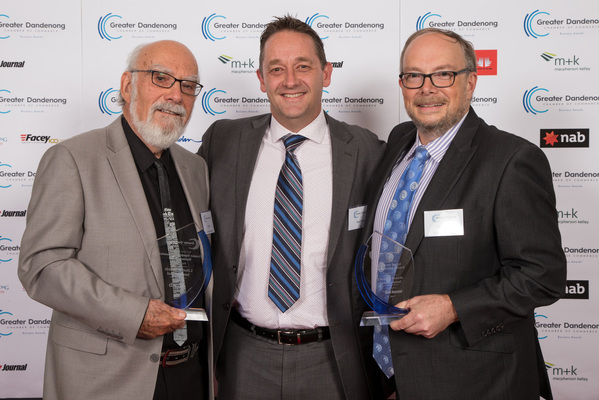 By Casey Neill
Business Award
Sponsor: NAB
Winner: Lifestyle Brands International
Nominees: Buildsafe, Illusion Australia, Jurgen Swiss Bread, Lifestyle Brands International, South East Brewing Company.
Corporate Social Responsibility Award
Sponsor: Dandenong Star Journal
Winner: Lifestyle Brands International
Nominees: Dandenong Market, Genesis Fitness, Haulaway, Skillinvest.
Lifestyle Brands International is a family business that started 35 years ago "in an area which is about the size of this stage".
Uri Palti gestured to the space, which measured just a few metres, as he accepted the top prize at the Greater Dandenong Chamber of Commerce Business Awards.
The home decor company picked up the Corporate Social Responsibility Award earlier in the evening, held at the Atura Hotel on Wednesday 22 November.
Uri's son Roni accepted that honour.
"We've put a lot of effort into the community here and overseas and we're truly proud to win this," he said.
He returned to the state with his father to accept the overall Business Award.
"This is not my brother. This is my eldest son," Uri joked.
He said his other son, Aviv, also played a key role in the business.
"Now we have a third generation working," he said, proudly announcing that his granddaughter had joined the team.
Lifestyle Brands employs about 70 people – "not all family members" – and is based in Noble Park.
It started out as a retailer in The Glen shopping centre, selling photo frames and albums.
The Palti father and sons team identified an opportunity to import its own products.
Today they stock more than 6000 products and supply more than 4000 trade customers throughout Australia, New Zealand, Asia and Europe.
Among Lifestyle Brands' clients are major retailers Harvey Norman, Big W, Myer and Matchbox.
Lifestyle Brands produces 80 per cent of its designs in-house to keep its products on-trend, sends out a team to ensure stock on the shelves is looking good, and has created an electronic stock management system for easy monitoring from order to delivery.
Big W has twice named the company as its overall supplier of the year.
In 2011, Lifestyle Brands established The Cambodian Rural School Trust to sponsor students and end the poverty cycle.
"We go out to the poorest villages in Cambodia and we find bright students that don't have an opportunity to be educated," national sales manager Maria Jakovljevic said.
"One hundred per cent of all the funds go straight to the community. There's no overheads."
The sponsorship funds education, health and dental care, life skills courses and living allowances.
Students who've received assistance now manage the organisation and receive mentoring from Aviv.
"They now are the lucky ones because they're getting an opportunity," Ms Jakovljevic said.